In what other locale. we ask of you, could you traverse three diverse locations over four days, and have your fill of some of the best food a city has to offer, not to mention a staggering choice of libations both niche and well-known?
And all over a holiday weekend. Yes, the four-day food festival known as The Taste has instantly become a Southern California  tradition after the huge success of its first edition at venues inBeverly Hills, Hollywood, and downtown Los Angeles.
The Taste, sponsored by the Los Angeles Times and Food and Wine Magazine, actually evolved from a similar–and similarly fabulous–event last year beginning on 9-02-10, the perfect day to mark the beginning of the festivities in Beverly Hills and its famous zip code, which took place over the Labor Day holiday last year as well.
This time, just like from a menu, thousands of attendees could pick and choose from a list of events at the different locations, with each a separate ticket price.
There was Burgers & Beer in Beverly Hills at the old Robinsons-May parking lot, where things got off to a stellar start on Friday night. More in the mood for cocktails? That same night, it was the Art of Mixing on the Paramount lot, always a festive place to have an event amongst the movie façades of old New York Street. DJ Jason Bentley, whose publicity shot reminds us of  designer/director Tom Ford, provided the the right groove and Mariachi el Bronx brought the energy level even higher with its live sets.
On Saturday, Beverly Hills boasted Secrets from the Kitchen and Cellar, replete with food and wine seminars and cooking demonstrations from top chefs and naturally, an all-you-could-eat and drink lunch. As the sun went down at Paramount Studios, it was time for the Taco Tequila Tryst, hosted by food truck pioneer and chef Roy Choi.
The Southern California weather was in complete cooperation Sunday as sunshine and perfect temps reigned onRodeo Drive for the Fashion Bites Brunch, where guests had their run of the street without cars–and access to all the famous fashion names that line it.
That evening, Mother Nature unleashed some surprise rain on the Street Eats gig at  Paramount, but it only added to specialness of the evening, and with one of the vendors giving out bright yellow umbrellas, you had to wonder for a second if it wasn't just special effects staged at the studio.
Sunday night was the big hurrah with Food Noir on Broadway between 8th and 9th streets in downtown LA, where thousands of people turned up to eat, drink and party in a place you normally can't– and have access to old films being shown at the historic Orpheum Theater.
Concurrently, Desserts after Dark in Beverly Hills satisfied the sweet tooth of hundreds of people who didn't want to make the trek downtown. Not being able to be in two places at once, we opted for downtown and ended up closing down the street under the watchful eye of security and LAPD officers as the neighborhood was starting to reveal its sketchiness as the night grew longer.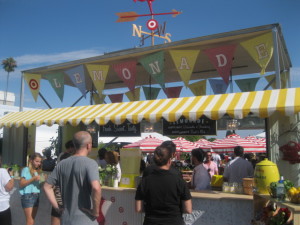 Monday's finale was back at Beverly Hills for the Labor Day Picnic in the Hills that drew a huge family-friendly crowd that offered a little something for everyone: from wine seminars to a popular lemonade stand, serving up the chilled beverage with either strawberry and mint or watermelon and basil in a cute, take-home Mason jar with a handle, and a lid.
One of the most exciting aspects of the festival was the sense of diverse culinary  discovery along with the ability to do all you can eat from your favorite boites that normally don't offer such a thing.
Every event brought it share of highlights, with very few off moments. On burgers and beer night, the array of offerings was almost overwhelming, with more than 25 purveyors grilling up their best burgers along with an amazing selection of international and locally crafted beers along with a healthy wine selection.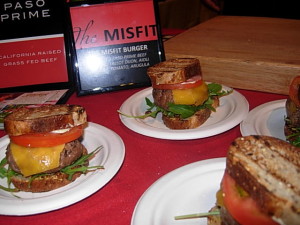 Here are our top three hamburger favorites:
– the burger from Osteria la Buca, a new place we "discovered" and will soon be headed to, located on Melrose east of Paramount,  made with short rib, brisket and prime on a pizza dough-type bun
–25 Degrees' (in the Hollywood Roosevelt Hotel) spicy, heavenly hatch green chile and arugula burger topped with chipotle aioli and Nueske bacon, and, drumroll please–
– the astoundingly delicious burger from Santa Monica's new-ish The Misfit (in the spot where Anisette was on Santa Monica Blvd., between the 3rd St. Promenade and 2nd Street. Full disclosure: they were so irresistibly good that we had two of them, and made friends with executive chef Bruce Kalman and in the process of complimenting him on the quality of the meat and the overall presentation.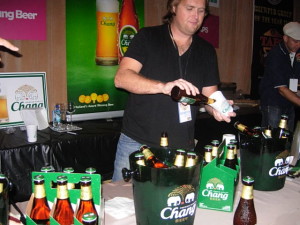 In the brews category, we particularly liked Chang, fromThailand,Italy's Peroni– which had a beautiful lounge set up between the 2/10 atop theBeverly Hillsparking lot and was also serving up a selection of Italian ices, and long-time favorite Blue Moon.
At the Art of Mixing, we sampled Absolut's new apple vodka, Sobieski's Polish potato vodka and how delicious it was with ginger syrup and Veev's fun cocktails in jars made with fresh herbs and juices. Good thing closing time wasmidnightor who knows how late the festivities would've gone on.
The Taco Tequila Tryst boasted some new takes on Mexican food and our favorite restaurant name: Mexikosher. You got it, kosher Mexican in the Pico-Robertson kosher belt, and one of the few places not featuring pulled pork, which is immensely popular these days, but not on our list.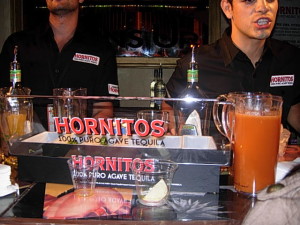 Exhibiting restaurants ranged from the trendy Red O, serving a delicious shrimp with caviar on jicama "taco," to Pink Taco serving up an addictive brisket quesadilla and scrumptious ceviche. An A+ for effort goes to presenting sponsor Hornitos tequila, which served up drinks from a customized booth where no detail was too small, including a recently commissioned velvet painting of one of its bottles. Crowds were also lured by its giveaway of handblown shot glasses, wrapped in black-and-white Hornitos bandannas– items sure to come in handy. Another favorite was Death's Door vodka, a boutique brand brewed in theGreat Lakesregion. Mionetto was also on hand with its prosecco, if you weren't into the harder stuff.
A portion of the proceeds from ticket sales benefited organizations including Share Our Strength, Beverly Hills Education Foundation, Collins College of Hospitality Management at Cal Poly Pomona, Los Angeles Times Family Fund's Summer Camp Campaign and Los Angeles Conservancy.