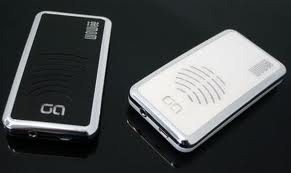 Talk about amping things up. It may be about the same size as your smart phone, and as easy to tote around, but what the WOWee ONE Slim does is create a wall of sound wherever you may go.
The slim speaker came out earlier this year – the evolution of the original WOWee ONE, and has been one of the hottest items in portable audio.
The new incarnation is about the size of a standard smart phone, meaning it can easily fit in your pocket or purse.  Of course, it's rechargeable and works with just about every device from an iPod to a laptop, an iPad to a MacBook.
Just make sure your neighbors don't mind huge sound, because that's what you will get from this product after you attach it to any surface including a wall, a desk, a surfboard or even a cooler.
Just think of the possibilities. In addition to being a portable speaker for any music player device, or for watching movies, it's a great tool for presentations or for providing speakerphone capability for any cell phone with a standard headphone jack.
The WOWee ONE Slim and Classic come in several colors and styles, including black on black and black and chrome, as well as the recently released white WOWee ONE, a perfect companion for the white iPhone.
The WOWee ONE Slim boasts a dynamic response range of 40Hz – 20KHz and reaches 90 decibels, yet weighs only 4 ounces. The Slim has a battery life of 10 hours and measures just 4.3″ by 2.2″ by .7″, ideal for a pocket, handbag, backpack, or glove compartment, so it's always handy.
The WOWee ONE Classic has a dynamic response range of 40Hz – 20KHz and reaches 90 decibels yet weighs 7 ounces. The Classic has a battery life of 20 hours and measures 4.7″ by 2.4″ by 1″.
The Slim retails for $89.99, and the WOWee ONE Classic at $79.99. Available at www.woweeone.com