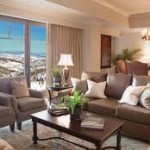 If you're looking for splendor in the snow this season, the Montage Residences inDeer Valley, Utah—one of North America's top ski resorts–could satisfy your every need to be housed in a winter wonderland.
Part of the acclaimed Montage hotel chain known for its luxurious properties in Beverly Hills and Laguna Beach, the Deer Valley locale has been open just a year.
The private residences are new. Prospective buyers got a preview at a recent event at Montage B.H., a virtual tour of prime mountain real estate, courtesy of noted New York designer Philip Gorrivan and Alison Pincus, co-founder of One Kings Lane, an online home furnishings store, who collaborated on the innovative design of the residence being showcased during a feative cocktail event. Among the attendees mixing, mingling, oohing and ah-ing: Maria Shriver.
Some of the unique features of the two-story home—one of about 80 on the property– include custom artwork and furnishings, including a 10-foot dining room banquette, a bright orange four-bed bunk in the kids room, bronze "tree branch" chandeliers in the master bedroom, and gracing the area above the living room fireplace, a specially commissioned oil painting by San Francisco artist Ann Rea perfect for the environs, called "Dreamy Aspens."  
"Their inventive interiors show how a gracious mountain home can easily accommodate the most active and informal of lifestyles in harmony with striking design elements in art, furnishings and more," said Alan J. Fuerstman, CEO and founder, Montage Hotels & Resorts. "All of our 81 private residences offer access to every luxury hotel service and amenity. But this one-of-a-kind home, with two floors of great design and dramatic views of pristine terrain, is custom-made for memorable retreats with friends and family for years to come. "
If you can't purchase the 3,471-square-foot home, you can scoop up some of its furnishings from One Kings Lane (www.onekingslane.com ), which will be selling items that are part of or inspired by the exclusive Montage Deer Valley residence online in January 2012.
"We were given a stunning shell in a gorgeous destination and it's a unique exercise to reinvent how a contemporary resort home in the mountains can look and function," said Pincus. "Through this design, we hope to embody the beauty of Montage DeerValleyand to bring the essence of this special location to all One Kings Lane shoppers. Only one lucky family will live in the home, but many on One Kings Lane will have the chance to reinterpret the design schematic in their own home."
The New York-based Gorrivan, who has been visiting Park Cityfor more than 25 years, is known for interpreting classic spaces with unexpected style.
The luxurious home includes a great room, a dining room, den, gourmet kitchen, three bedrooms, three five-fixture stone bathrooms and three private balconies on two floors. Special features include rustic cherry millwork, hand-scraped walnut plank flooring, coffered ceilings and fireplaces with limestone surrounds in the living room and master bedroom. South and west exposures offer beautiful natural light and of course, stunning views of  the nearby ski runs.
The new residents of the property won't have to look far for anything else they might need. They'll be provided full access to the Montage DeerValley's resort services and amenities, including residential concierge services, spa services, private ski instruction and DeerValleyski ticketing on site.
There's also a residential concierge team that can arrange grocery shopping and housekeeping, assist with travel plans or entertaining, and make all activity bookings. The family will also enjoy signing privileges in all of the resort's restaurants and the beautiful Spa Montage and can participate in a series of year-round activities.
The kids will also have plenty to do, as children can join in custom adventures designed just for them at the resort's exclusive children's club, Paintbox.
For more information: www.montageresidencesdeervalley.com