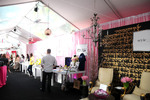 Backstage at the Grammys, the scene entailed more than just preparing for the big show at StaplesCenter. Distinctive Assets ran the official gift lounge for talent and presenters at the 54th Annual Grammy Awards, with a slew of great products and services as well as gift bags filled with goodies.
It's been 13 years now since the LA-based company created its first Grammy gift bag. This time, giving new meaning to the term "like kids in a candy store," the gift lounge for participants was themed to be a candyland oasis filled with goodies.
""We always look forward to introducing talent to an array of companies with great gifts to share, ranging from up-and-comers to tried-and-true brands celebrities love," said Distinctive Assets founder Lash Fary.
During three days of rehearsals, invited talent was able to stop in at the lounge, presented by LASIO Professional Hair Care, and pick up thousands of dollars worth of goodies. Headlining this year's gift bonanza was an assortment of luxurious hair products and treatments from LASIO which also treated all of the guests at the official after-party with signature gift sets. 
Among the other gift lounge vendors, ESP – Essential Safe Products provided a bevy of non-toxic, eco-friendly and reusable products to keep food and drink chemical free while on-the-go, perfect for going on tour.  Other gifts included New Era headwear/belts/accessories, Gibson Guitar's Melody Maker electric guitar, Just Dance 3 (along with three other Ubisoft video games), gourmet chocolates from Emanuel Andrén, MTG's Glalent Facial Mist and ReFa Platinum Electronic Roller, Belldini chic women's apparel, Pepsi, Butterfly Twists foldable ballet flats, Rider Sandals, Simone I. Smith fashion forward fine jewelry, the hottest designer sunglasses from SOLSTICE Sunglass Boutique and Red Carpet Manicure's fast-drying DIY gel manicure system. 
Members of the Beach Boys, Foster the People, the E Street Band, the Band Perry, Chris Brown, Jane Seymour and Rihanna were among those who took home the gift-laden bags. Here's what was inside: items from LumaSkinz, The Kandy Bar, Imanta Resorts, MyMusicRx, Groovin' on Granola, VoKARE Fashion, Live In Fitness Enterprise (LIFE), JM Blowdry, ThermaRobe, Chocolatines Jewelry Box, Nozin, Onyx Moonshine, Herb Ritts: LA Style, DavidBartonGym, Sing To Your Baby, Music Connection, Circuit Works, Solstice Sunglasses, Hotel BPM by DJ Bijal, The Last Holiday: A Memoir by Gil Scott-Heron, People Yearbook, LumaSkinz, The Cancer Dancer, Physique 57, YooDara, Le PeTiT CiRqUe, LaBlast Fitness, VIP Goodies Skin & Body Gift Box, CLD Style House, Hilton Hotels & Resorts, Celebrity Trainer Lalo Fuentes, Krystal Klear Water filtration systems, Day2Night Convertible Heels, Harman AKG 350 Headphones, Tatt Love and Dearfoams.