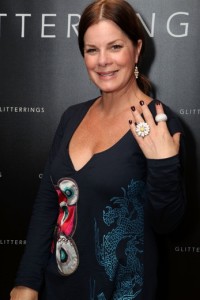 The Mondrian Hotel on Sunset Boulevard was Oscar prep central for the always first-rate Kari Feinstein Academy Awards Style Lounge, which took over part of the property for two days leading up to the big show.
The celebrity-heavy guest list enjoyed gifts and services from a select group of vendors participating in the high-energy bash. Okay, perhaps some of that was fueled by generous servings of a new energy drink called Body Armor.
Jessica Alba was not able to attend, but hubby Cash Warren picked up Devora Libin jewels for her in neon colors, while Anne Heche and her leading man James Tupper got kitchen and houseware items from The Pampered Chef, as did Karina Smirnoff.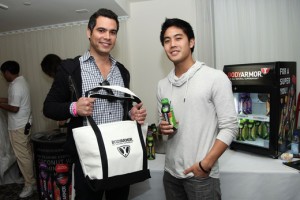 It was a huge hit with Donald Faison, who posed for pictures with the company's prop grill, saying he couldn't wait for summer barbecue season.
Also spotted: Scott Porter from "Heart of Dixie," Laura Prepon, Seth Green, Chelsie Hightower, Ralph Macchio, Jesse Metcalfe and his fiancée Cara, who were checking out the custom menswear made by Commonwealth Proper.
Rembrandt teeth whitening products were a big hit with actress Beverly Mitchell, who said she loves red wine – which is known to stain teeth, as is, ahem, smoking. Marcia Gay Harden, who said she recently quit, also got a passel of products to make her smile even brighter. The Oscar winner also picked up sparkly cocktail rings from Glitterings.
Other brands participating included BeautyMint, Big Chief—a casual clothing line making its LA debut,  Capella Hotels, Contraband Hats, Commonwealth Proper, Enza Essential Skin Care, Gansevoort, Icelandic Glacial, Legacy of Cool, Lending Luxury, Melt LA, Popcorn Indiana, Sabra, Silpada Designs and The Creative Coalition, which was shooting PSAs on site.
Down the street at L'Ermitage, flanked by was figures of Brad and Angie from Madame Tussaud's, the Roger Neal Style Suite ran for several days and featured a party atmosphere to get glam for the Oscars, a place where guests could get facials from noted skincare products company G.M. Collin, which sponsored the event. Also on tap, clothing, jewelry, accessories, and all the wine and coffee one could drink.
And upstairs in a suite with the security guard, jewelry expert Michael O'Connor loaned out sparkling pieces for people to wear on the red carpet.