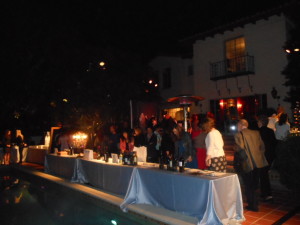 Ask anyone. It would be very tough to go wrong with a terrific trio, the combination of wine, women and shoes—which just happened to be the theme of an inaugural fundraising event for two children's charities.
It was a night of poolside revelry, good food and great shopping for a cause as Children's Action Network and Westside Children's Center presented the first Wine Women & Shoes  event, held at the Santa Monica home of Heather Thomas and Skip Brittenham.
The choice of wines being poured in the back yard of the San Vicente Blvd. estate was pretty staggering, and there wasn't enough time–or enough cabs in the area–to try them all. Participating wineries included  Breggo Cellars, Charles Krug, Cliff Lede (pronounced Lady—and one of our favorites) Vineyards, Collier Falls, Landy Family Vineyards, Old Bridge Cellars, Patz & Hall, PEJU and St. Supery.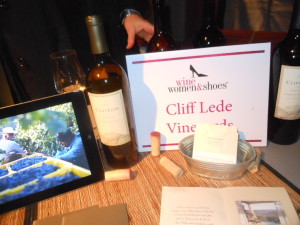 There was plenty of great food being served as well from a menu of top-notch Los Angeles chefs and restaurants, who served up savory bites and signatures dishes, including  Chef Dakota Weiss of NINETHIRTY at the W in Westwood,  Chef Ben Ford, of Ford's Filling Station in Culver City,  Chef Kimmy Tang, 9021PHO,  BOUCHON, Marmade Cafe, Celestino Drago, Farmshop, Hamasaku, The Palm, Röckenwagner Bakery and Villetta.
Again, not enough time much less room in the tummy to try them all, but we especially loved the vegetarian spring rolls from Marmalade Cafe on Montana Ave. in Santa Monica and the truffle risotto with lobster from the W.
But the main activity at hand was shopping, with a portion of the proceeds going to charity.  Event guests perused the latest shoes and accessories from a stellar list of brands like Bettina Duncan, Judith Leiber, Jennifer Leitzes, Jill Roberts, Judith Ripka, Kendall Conrad, Layna and Alan Friedman, Liebeskind/Berlin, and Elyse Walker, who showcased items from Prada, Miu Miu, Valentino, Giuseppe Zanotti, Christian Louboutin, Jimmy Choo and Yves Saint Laurent.
"We are thrilled to bring Wine Women & Shoes to Los Angeles to raise much needed funds for two incredible organizations," said co-chair Carla Du Manoir.  "Anyone who has a passion for fashion and an appreciation for fine wine and great food all while giving back to our underserved youth, loved this event!"
When all was said and done, the evening raised $175,000 for the two non-profits that help children in need, and that also leaves us with a warm, fuzzy feeling.
 Next year's event promises to be even better. And a program note: bring ballet slippers or sandals to navigate the flagstones and the grass.