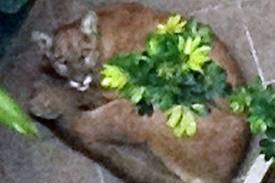 "Like so many people, I wanted to hang out in Santa Monica–but they stopped me dead in my tracks."
Those could've been the words of a three-year-old mountain lion, who was gunned down by police in the courtyard of a Santa Monica office building Tuesday to prevent what they saw as a public safety hazard.
There was an immediate outcry about the violent resolution to this highly unusual incident of a wild animal making its way into in a heavily urbanized area. Santa Monica police say they have no record of anything like this ever happening before in the beachside city, unlike in other Southern California cities that border on wildlife habitats and often see such four-legged visitors like the recent "Glen Bearian" in Glendale.
We first heard about it, incredulously, a few hours later from a KABC TV cameraman who was shooting B-roll of potential areas where the cat could've come from– which at this point, no one knows. (But experts say it would be an area plentiful with deer, the main menu entree for mountain lions.)
Like so many others, I was immediately struck by sympathy for this beautiful creature, having a predilection for both large and small felines. After watching the news coverage which included the disturbing gunshots and then video of the animal's body being put into the back of a truck, I couldn't help but repeatedly think, "Why did they have to kill him?" and then, "He came all the way to our town, and this is how we treat him?"
Disturbed and confused by my own Disney-esque image of the big cat, I went to see where this all went down, which was just south of Wilshire Blvd. and around the block from the 3rd Street Promenade on 2nd Street.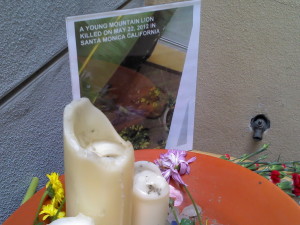 The Wednesday Santa Monica Farmer's market was going on in the immediate vicinity and I clearly was not the only one to check out the location. There was already a shrine to the cat set up in the courtyard, with some candles and flowers, (above) and several like-minded people around who were not pleased about the situation and wanted to talk about it. Yes, it was a chick thing, at least during the time I was there.
I talked to the women who work in the childcare center with doors on the courtyard at 1221 2nd Street, and they told me that the cat had jumped over the glass enclosure of the complex, which is about 8 feet high. There was obviously something there that he wanted, although it remains a mystery. A yoga class at the studio there?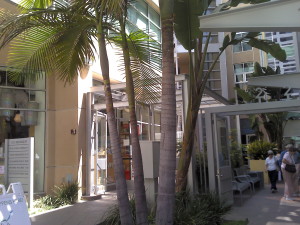 The initial reports of a big cat walking down Arizona Avenue, which is one block south of Wilshire and parallel to it, came in at about 5:45 AM. Then, a maintenance worker in the building called police at about 6 AM, thus starting what became a three-hour plus ordeal.
Although the employees I spoke with were not able to get to their posts because street was closed off and the area was deemed unsafe, they had a lot of information to share. They said that the cat was shot by a tranquilizer dart, but didn't calm down and instead pepper balls and a firehose were sprayed at him and he was getting increasingly agitated– as a person would. It was then that the decision was made to shoot him and again, no one seemed happy about this, or relieved. The fear of authorities, they said, seemed not so much that he would attack anyone, but that he would run out into traffic and cause panic or accidents.
It all still seemed so surreal, that I had to call the Santa Monica Police Dept. and get their side of the story, speaking with their public information officer, Sgt. Richard Lewis. There were four agencies on scene that handled the incident: Santa Monica police and fire, California Department of Fish and Game and the National Park Service.
Lewis first clarified what he called the wrong information that the cat had been firehosed, a tactic that recalled what racist police used to do to black people in the Deep South in their struggle for civil rights in order to disperse (and terrorize) them.
Instead, Lewis explained that the fire department was told by fish and game wardens to hose the glass gate to make mist appear on the top of it and make it look higher, and therefore create an unstable and taller surface to perhaps deter the cat from leaping onto or over it and escaping back out onto 2nd Street traffic and pedestrians.
"The cat was not shot with a water hose, there are surveillance cameras, and there were different methods used to keep the cat contained," he told me. Those methods were deployed after the cat was shot with a tranquilizer dart at about 9:30 AM, which can take 5 to 25 minutes to have an effect.
Instead of calming him down, big kitty got really mad. Other non-lethal containment methods were used, like the firehose and firing pepper balls at him, which, like pepper spray, were supposed to cloud his vision and make it difficult for him to leave the containment area. So you had a cat who had a dart in him, had pepper balls fired at him– and still made a leap to head out to the street and continue exploring Santa Monica.
That's when the decision was made to shoot, and after speaking with the agencies involved, no one is happy about it, but their job is to protect public safety.  "It's a tragic event, it is regrettable and we are saddened by it," says Lewis. "It is the last thing anyone wanted to do.  It's one of those things, and tragic a young lion is no longer with us."
And as the state Fish and Game Department tells me, shooting the animal is not the preferred method of resolution, but is always part of the plan– and everyone involved in the Santa Monica situation knew it.
Warden Patrick Foy says although the Santa Monica incident was highly unusual because of the urbanization the lion found himself in, similar scenarios happen in the state of California nearly every day. The department is called upon to make sure the animal gets back to its natural habitat on a regular basis. He said just yesterday, there were two such statewide incidents.
I asked him the question on many people's minds. Why didn't they try to feed the cat and then capture him while he was eating?
"When these animals are in a high-stress situation, they not going to relax and eat," Foy said. "We look at the situation, and assess whether it has a corridor for escape. Can it get back to its natural habitat without going through an urban area without posing a threat?  Obviously, in this case, no. And I'd rather be talking to you about it than the mother of a child that it injured or even killed."
Okay, fair enough. Thank you for further explaining what at first seemed to be a case of incompetence and ill regard for one of California's 4,000 to 6,000 mountain lions, also known as cougars or pumas. Warden Foy says the official name of their species is Felis Concolor, and that contrary to popular belief, they are not endangered.
Still, big kitty, for whatever reason you were cruising downtown Santa Monica, you will be fondly remembered.