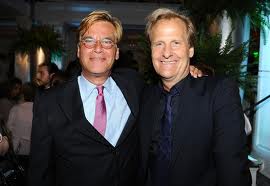 Flanked by series star Jeff Daniels and executive producer Alan Poul, Aaron Sorkin was in the hot seat as he took questions about "The Newsroom" during a spirited session  at the Television Critics Association summer press tour from some of the same people who have criticized the show as inauthentic and preachy.
The HBO drama, which premiered in June to solid ratings—maintaining about 2 million viewers per episode–and has already been renewed for a second season, has somehow become a lightning rod for Sorkin haters who seem to object to the often political pontification of characters he creates, particularly the fictional cable news anchor played by Daniels.
This all, of course, comes on the heels of Sorkin winning the Academy Award for screenwriting for "The Social Network" (2010) and an Oscar nomination this year for co-writing "Moneyball," both adaptations of best-selling books, rather than original creations of his as "The Newsroom" is, and as his multiple Emmy award-winning "The West Wing" was.
Neither Daniels nor Poul got nary a word into the discussion as Sorkin explained that his political opinions were on the level of someone with a BFA in musical theater and that he thought of himself first and foremost as a playwright.
"The thing I know most how to do is to write a play," he said. "I feel like a brilliant director will make it visually interesting."
Just like the clocked pitches in "Moneyball," the questions came fast and furious at Sorkin, who was clearly prepared for the challenge.
When asked if he would respond to any criticism of the show by making changes, Sorkin said any time people are talking so much about a show, it's good for the business and that with HBO, the first season is locked before the first episode airs and that changes cannot be made.
Not in response to any question, Sorkin then used his platform to state that a recent story that the entire writing staff was fired was untrue, that in reality there had been a couple staffing changes in promoting two writers' assistants to story editors and that one of the staff writers, Corinne Kingsbury, was unfairly singled out.
"She was identified as my ex-girlfriend, and she is not. I would hate for the implication to follow her for the rest of her life. She's very talented and brings a different sensibility to the show," he said.
Yet perhaps admitting that "The Newsroom" could use additional input, Sorkin said that next season there will be paid consultants from television, print and online media. He said that previously, he sought free advice from journalistic luminaries over long lunches, and without naming their names, that people would recognize them as leaders in the industry.
One questioner pressed Sorkin on his depiction of women in the series, positing that they appear weak, incompetent and apologize too much and seem to exist mainly serve the male characters on the show.
For example, one of "The Newsroom's" women recently confused the country and the state of Georgia, a situation that would be unlikely to occur amongst the staff in any national newsroom. A female character plays an assistant who is quickly promoted in the newsroom– questionably, since, as portrayed in other scenes, she seems to lack proficiency in basic tenets of the trade. But she does make an attractive love interest.
"I completely respect that opinion," Sorkin said about the critic's view of the female characters. "But I 100% disagree with that. I think the female characters are every bit the equals of the men," he said, adding that he has worked hard to establish that the women have qualities showing that they care about others, reach high and are thoughtful and curious.
"Hubris is always punished. Men and women screw up in roughly the same way," Sorkin said.
Daniels jumped in to defend his boss, saying one of the things he admires about his writing is that Sorkin's characters all have flaws. "I love that," Daniels said. His character, Will McAvoy, is a Republican whose viewpoints seem to be more in line with the Democratic party.
"I want to make a clear distinction between me and the characters that are on the show," Sorkin said, jumping in again. "Most of the time I write about things I actually don't know very much about."
Legions of  Oscar and Emmy voters would tend to disagree.