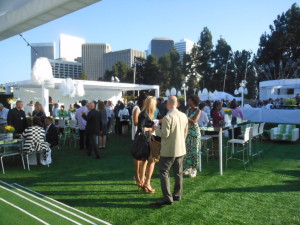 What do you get when you mix and mingle talent from CBS, Showtime and the CW? Everyone from Charlie Rose to Nancy O'Dell to Matt LeBlanc and Lisa Kudrow and Kyle McLachlan, that's who.
They were among the luminaries at the annual summer press tour held by the networks, all owned by the same parent company, which made for a very interesting mix on the guest list that also included Mamie Gummer, Jaime King, Shenae Grimes, Kat Dennings, Sela Ward, Jonny Lee Miller, Lucy Liu, Alex O'Loughlin, Scott Caan, Masi Oka, Jeff Probst, David Duchovny, Dennis Quaid, Jason O'Mara, Taraji P. Henson, Aisha Tyler, Evan Handler, Emmy Rossum, Kevin Nealon and Chuck Lorre.
Head honcho Les Moonves and his wife, "The Talk" and "Big Brother's" Julie Chen made the rounds at the soirée, held outdoors on a perfect summer night atop the parking lot of what used to be the Robinsons May building, across from the Beverly Hilton– now a private event space, while developers hash it out with the city on what will go into that prime property. In the meantime, before luxury high-rise condos take over the space, it makes for a great place to have a party, dressed with lounge furniture and multiple bars and buffets. The only downside: the porta-potties out back, although they were of the "luxury" variety
The four different types of quesadillas served at one were our favorite and there were also choices of sliders and hot dogs and potstickers as well as a selection of cookies and ice cream and other dessert treats. In other words, if you are into healthy, low-carb California cuisine, this was not the place. Most of the action, naturally, centered around the bars.
LL Cool J, seemingly in great spirits, greeted guests with a big smile. I told him based on his performance at the CBS upfront at Carnegie Hall this past May, he should be considered to host the Emmys next year when it lands on CBS.
Kyle MacLachlan, whose ruggedly handsome visage always makes me flash back to "Twin Peaks," was a pleasure to speak with. He's promoting his new show, "Made in Jersey," but when asked what was his absolute best television experience, he told me that it was working in New York on " Sex and the City " as Charlotte's husband. Damn, he's right. That was one of the best subplots on the series.
Speaking of another dearly departed show, upon meeting Matt LeBlanc, who stars in Showtime's "Episodes," I asked him what I admittedly considered a dumb question. "Do you ever get tired of talking about 'Friends?' Surprising, he said absolutely not that he loved the show and it was the greatest time of his life. So there.
Later in the evening, he and Lisa Kudrow were photographed together—a mini "Friends" reunion that seemed to fuel the never-ending speculation about the possibility of all of them coming together again. One can always dream, especially in the middle of a midsummer's night.