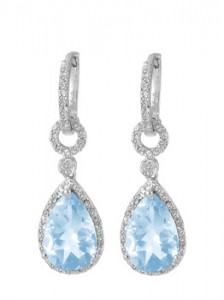 Buying fine jewelry on a budget sounds like an oxymoron, until you've checked out the beautiful baubles at www.shadora.com –where you will find fabulous pieces at incredibly low prices.
We're talking up to 90% off list for gorgeous rings, earrings, bracelets, necklaces—pieces that look infinitely more expensive.
How does Shadora offer a wide selection of well-crafted, top-quality jewelry —from white topaz stud earrings to black diamond accented pendants—for such affordable prices?
The website features a limited number of items at a time, and each item is up for sale for no longer than 30 days, if the stock does not get sold out sooner. Because it doesn't maintain a huge inventory, Shadora can bring you exciting new looks for a fraction of what you would pay retail.
We fell in love with a pair of 6.5 Carat Blue Topaz and 1/10 Carat Diamond and Sterling Silver Teardrop Earrings set in sterling silver—and got tons of compliments on them when worn with an LBD to an event at the Beverly Hilton recently. The list price was $479.99, but at Shadora.com they were a total steal at $39.99.
We're not alone in this. Nearly 40,000 people had "liked" them on Facebook, but at last glance, there were still some left in stock.
For less formal occasions, but still providing some glitz, we liked the 2.5 Carat London Blue, White Topaz and Sterling Silver Earrings. Especially for $19.99.
Both sets of earrings are classic and will be in style for years to come. Shadora's founders say that's the goal, to offer jewelry that is selected with elegance and longevity in mind. They say they only choose pieces they consider classic, that will stand the test of time.
All items–some of which sell for under $12– come in a lovely gift box, at no additional cost.
An added bonus, unlike most other online retailers that require a minimum purchase for free shipping, Shadora's merchandise—no matter how much or little you purchase, is shipped for free.
And by the way, only buyers who reside in New York state pay sales tax.
Check out the selection at www.shadora.com and don't miss out on items you will treasure.