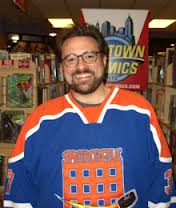 Filmmaker and entrepreneur Kevin Smith has a rabid fan base, and although we had admired some of his past films, including "Chasing Amy" and of course, his  breakthrough, "Clerks," we didn't consider ourselves amongst them. Until yesterday.
That's when Smith, clad in a trademark hockey jersey and introduced by KROQ's Ralph Garman, came clambering through the crowd of entertainment industry-ites gathered in a ballroom at LA's Sofitel hotel for Variety's Future of Film Summit for what was billed as a keynote speech in a conversation with Garman.
The portly director started off by refusing to sit down, saying that he felt particularly fat and that he hoped people would understand if stood the whole time. He and Garman then shoved the chairs that had been set up for them out of the way.
Thus launched the kickoff of a profanity-filled discussion of the motion picture business, podcasting, digital and social media, his past slate of films, Bruce Willis's apparent hatred of him, his admiration of Judd Apatow, his dealings with Quentin Tarantino, blowing off his agent and attorney and trying to get in touch with Jerry Bruckheimer without them.
And that was just for starters. Some of the funniest moments came when Smith desscribed his wife as well above his pay grade, and we're leaving out some of the descriptors that would probably insult other women.
But coming from Smith – and it did take us a few minutes to get into his admittedly skewed sensibility– his words were interpreted more through this female brain as enlightenment rather than offensive.
Obviously unlike his Silent Bob character, Smith was never at a loss for something to say– the session ran half an hour over and had to be almost forcibly ended by an event organizer who was booed off the stage, poor dear – as he waxed euphoric on some old-school values, saying that honesty is what connects with people.
"My dick is small and Bruce Willis hates me," he said in one of the numerous times he had the rather tough crowd rolling on the floor. Although most of them seemed to be C-level executives, Smith geared many of his remarks to those starting out in the business in the context of what he's learned since he began about 20 years ago.
Here are some of his aphorisms:
"Spend as much time as possible with your audience."
"People in positions of power [who tell you 'no'] lose their jobs. Kids are discovering there's no longer a 'they.'"
"I will forgo money for a connection with the audience."
"They expect results in this business, but whatever you're doing, have the next thing."
"Keep it creative and weird for yourself. People feel the difference between passion and doing it for the money."
"Don't be an island – build a bridge."
Smith concluded with a lengthy and hysterically funny anecdote about deciding to blow off his agent and attorney (apparently for financial reasons) and deciding to contact fellow hockey lover Jerry Bruckheimer directly to ask for his advice (and not for money) about a hockey-related project.
He related how he was able to easily find the phone number and asked for the mega-producer but how he was put on hold numerous times and forced to listen to music from Bruckheimer soundtracks while being queried about how the two knew each other by an assistant. They had once worked together.
As Smith told it, Bruckheimer called back within a couple days and immediately identified the fact that Smith wasn't using representation—and they ended up having a nice conversation about the project.
And this is how the story ends: instead of a feature film that was originally intended, and due to a friend's suggestion, Smith will do a television miniseries on hockey, the details of which will be announced soon.
To quote one of my favorite Gretzky-isms, "Go where the puck is going." Kevin, I'll be following.