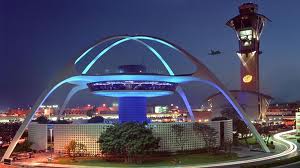 You know what they say about Los Angeles – your best friend won't even take you to the airport. But now there's good news for folks living in Santa Monica who get tired of paying $35+ for a cab (or Uber) ride down Lincoln to LAX, and for residents of Hollywood, who require a much longer and more expensive trek.
The FlyAway bus to LAX will soon begin serving both those areas–for a nominal $8 each way. So let's see, that's a savings of about $60 roundtrip, since return cab rides to SaMo seem to run about $40 these days.
FlyAway buses currently run to the airport from Union Station in downtown Los Angeles, Van Nuys, Westwood and the La Brea stop on the Expo line.
The Santa Monica bus stop will be on Main Street north of Pico Boulevard at the Santa Monica Civic Auditorium, with service scheduled to begin July 15. No word yet on what the parking situation will be, as currently the lot costs $8 or $9, last time we checked, so maybe you can convince someone to drop you off there.
In Hollywood, you'll be able to get on board on Vine Street near Hollywood Boulevard, after which the bus stop at the La Brea station on the way to the airport. That route is expected to begin operating in mid-September.
More info at www.lawa.org/flyaway and 866-435-9529