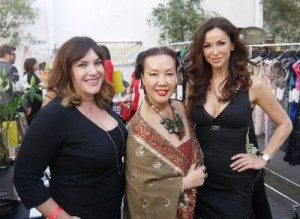 The weather gods always seem to be smiling upon Doris Bergman for her highly anticipated Valentine Romance Oscar Style Lounge & Party. This year—the 7th annual edition of the bash– it was unseasonably warm and sunny for the event, which was held February 12 at West Hollywood hotspot Fig & Olive, perfect for the indoor/outdoor party and especially for those who are in town for awards season from the frigid East Coast.
The Style Lounge celebrates both Valentine's Day and the Academy Awards, which are especially close on the calendar this year, and always features a festive lunch where nominees and VIP guests can schmooze over a gourmet meal and libations in a lively environment.
More than 100 people attended the all-day event which was hosted by MD Sun Skin Care and presented by Pura d'or Hair Care. Among the guests were Elise Robertson & Marnette Patterson (Oscar Nominated Movie "American Sniper"), Oscar Nominee Danielle Brisebois (Original Song "Lost Stars" from "Begin Again"), Kenny Chin (Oscar Nominated Move "Birdman"), Maddalena Ischiale (Oscar Nominated Movie "Unbroken"), Manny Marroquin (Oscar Nominated Original Song "Glory" from "Selma"), Melora Hardin (Golden Globe Winning Comedy "Transparent"), Trinity Simone (Oscar Nominated Movie "Selma").
Also among the familiar faces were previous years' Oscar Nominees Renee Taylor & Joe Bologna, former Golden Globe Nominee Lainie Kazan, Greg Grunberg ("Masters of Sex"), Deidre Hall, Dennis Christopher ("Django Unchained"), Jackson Pace ("Homeland"), Comedian Kevin Farley, John Savage, Kelsey Scott (2014 Oscar-winning film "Twelve Years a Slave"), Lisa Vidal "Being Mary Jane"), Michael Welch ("Twilight" Trilogy), Richard Grieco ("22 Jump Street"), and multiple award-winning actor Chris McDonald.
Everyone seemed to be in high spirits as they made their way around the sun-dappled patio to check out a selection of fashion for men and women including gorgeous designs from noted Los Angeles based designer Sue Wong and stylish men's tuxedos and suits from Art Lewin Bespoke.
There was also jewelry from cult favorites Twisted Silver and Silvana K, along with a wide selection of beauty, skin and hair care– including hair jewelry– fashionable accessories and hats, plus watches, fragrances, candles, footwear, sweets and spirits.
Perhaps that's why everyone seemed to be in such a good mood, in addition to the treats provided by other participating vendors that included Whirl-a-Style, Handmade Hearts by Hillel, Nitrocream, Bling It Hat Designs, DI Snapback, Microderm 360, Kama Sutra, Samiah Fine Clothing, My Saint My Hero, Twisted Silver, Perch Jewelry, Single Dress, Kaya Di Koko, Single Underwear, Spongelle, Tequila Azul Imperial, Telic Footwear, Drink Hint, The Virgin Cure, Arbonne, Model In A Bottle, My Dog Nose It, Shangri La Luxury, Shoppe 815, Color Wow, Tanus Designs Jewelry, Ofenbacher Fudge, GUESS,  Luna Bar, Clif Bar and Veved Ice Vodka.
Yet in the spirit of giving back, Wednesday's Child was the official charity, collecting donated gifts that will be given to youngsters in foster care, items that are sure to get their new year off to a good start. In Los Angeles County alone, there are more than 35,000 children receiving child welfare services and you can find out more about lending a hand here: http://wednesdayschild.davethomasfoundation.org/