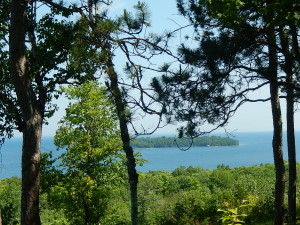 Many in the Midwest may be familiar with the splendors of Door County, Wisconsin, but those from other parts of the country – and the world – will be delighted to learn about what an incredible place it is to visit and explore.
Lodged between Green Bay and Lake Michigan, Door County is a 70-mile long peninsula comprised of charming seaside villages, marinas, beaches, historic lighthouses, scenic bays, museums, golf courses, beaches, forested woods, wildlife refuges, lavender fields, wineries and breweries, performing arts centers and theaters and state, county and local parks. Islands off the northern coast, reachable by ferry, boast their own attractions.
We arrived from the West Coast ready to "Explore the Door," which is the apt slogan coined by the Door County Visitors Bureau, and excited to discover the region from which most of the tart cherries in the United States are grown.
Known as Montmorency cherries, the variety traces its roots back to ancient Rome. Creative culinary uses for it abound in Door County, clearly the epicenter of the world for cherry lovers, especially during the summer season when the fruit is freshly harvested. The county boasts more than 2,500 acres of cherry orchards, and produces 8-12 million pounds annually.
Cherry wine, cherry salad dressing, cherry cookies, chocolate cherries, dried cherries, cherry honey mustard– you'll find any and every permutation wherever you look.
But the very first food fact we learned was that fried cheese curds are practically de rigueur at every local restaurant, except maybe at breakfast.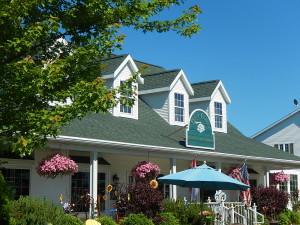 Our visit started off at Door County Coffee & Tea Company, established in 1993 by Vicki Wilson, and now a major purveyor that ships freshly roasted gourmet coffee from the heart of Door County all over the world.
The company roasts Arabica coffee beans on site in small batches to exacting specifications, and produces flavors including Raspberry Butter Crunch, Caramel Pecan Scones and Cherry Crème, along with traditional favorites like its Premiere Select, Intense Dark or Elite Espresso.
The restaurant—or the drive-through window if you're pressed for time – is a must for those who enjoy a quality cup of java, hot or iced. The cold-brewed iced coffee was a big hit with our group as we set off after a hearty breakfast on a warm summer day.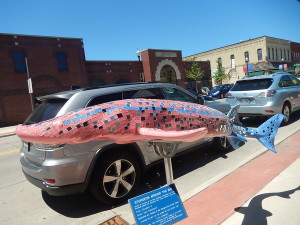 We explored the quaint streets of downtown Sturgeon Bay, named Wisconsin's friendliest small town. Almost everywhere we looked, local artists had fashioned their version of Sturgeon fish, exhibited as street art as part of a local contest going on all summer.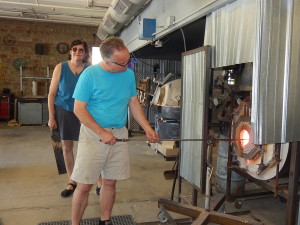 We stopped in at the Popelka Trenchard Glass Fine Art Glass Gallery & Studio to watch as master glass artists Jeremy Popelka and Stephanie Trenchard demonstrated what almost seemed like magic in fashioning beautiful glasses and vases in their unique and acclaimed artistic style. Both artists, whose work is shown internationally, also display their work in the adjoining shop, where you will find everything from jewelry to wine glasses to glass sculptures. Glassblowing classes and demonstrations are also available.
Despite the charming shops, we quickly learned that mealtime– in this case, lunch– was not to be missed, or hurried.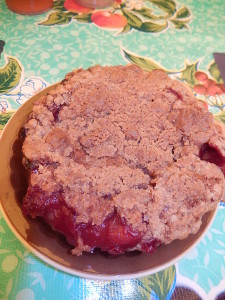 We were warmly welcomed at Scaturo's Baking Company and Café, a family owned and operated business that's been around for 18 years, specializing in homemade breads sweet treats, which naturally include amazing cherry pie. We were seated on the sun-dappled patio at a picnic table with a cherry-themed tablecloth before delving into the delicious hamburger and salad before being served an individual cherry pie. Despite vowing not to eat the whole thing, let's just say it was inevitable to do so, enjoying every last morsel of the flavorful crust and filling. And something else great about the restaurant and adjoining bakery, they're open every day of the year.
After lunch we headed to Hands on Art Studio in Fish Creek. It is an immersive arts experience designed for both kids and adults – a place where you can explore your creativity and leave with something to show for it.
This unique place encompasses a compound with various studios that house a variety of craftsmaking. After touring the facilities, guests can choose metal works, glass fusing, making mosaics, jewelry or painting and glazing a ready-made item.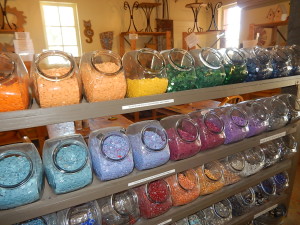 The staff applies you with everything you need for your project and sets you up in a work area. I went with the mosaics, first choosing an item, which was a mirror mounted in a wooden sunburst-type frame which I would then decorate. There were rows of canisters of various materials from ceramic and glass bits in just about every color of the rainbow to sparkly pearl-like beads from which to choose and decorate the mirror's frame, gluing each piece on individually. Yes, it did take a while– perhaps about two hours – but it was a relaxing and fun endeavor that was something entirely new. Then, I chose the shade of grout and left my creation with the friendly staff who put on the finishing touches and quickly shipped the mirror to me in Los Angeles, where it now proudly hangs on a wall of my house. There couldn't be a much better memento from a trip than something you create yourself.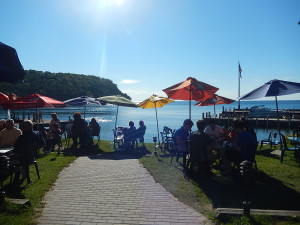 After wrapping up a lovely afternoon at the art studio, it was time for dinner at one of the most acclaimed restaurants in Door County, Fred & Fuzzy's Waterfront Grill in Sister Bay.
We sat outside overlooking the beautiful bay and were served the house specialty, cherry margaritas. The restaurant is only open during the summer months and does a booming business. Some of the favorite dishes include a steak and bleu cheese sandwich and the "Three Cheese Deluxe," a grilled cheese sandwich which is loaded with provolone, cheddar and Swiss cheese. Did we mention that Wisconsin is known for its cheese? Whitefish, another local specialty, is also on the menu. Adding to the fun atmosphere was a live band that provided the perfect soundtrack to a great meal.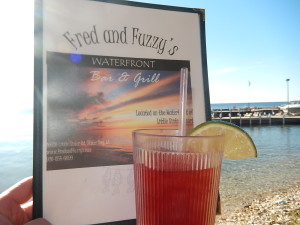 After dinner, our group then attended a performance at Peninsula Players Theatre in the Garden, which has been putting on plays for 80 years. Nestled in a cedar forest along the shores of Green Bay, it is America's oldest professional resident summer theater. We saw the comedy "A Real Lulu," about the first day on the job for the new governor of Vermont, starring Greg Vinkler as the governor, Ned Newley and Erin Noel Grennan as Louise Peakes, his incompetent but wholly charming assistant.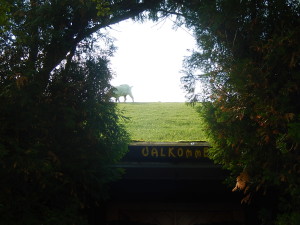 Our second day exploring the Door got off to a great start at another local institution, Al Johnson's Swedish Restaurant & Butik, known as the place where goats graze on the sod roof. You read that right—it's a Swedish tradition. Inside the restaurant, waitresses in Scandinavian garb served us pancakes, limpa bread and Swedish lingonberries. The family owned restaurant also boasts an adjoining gift shop—the Butik– with a full range of merchandise including clothing, accessories, jewelry and housewares.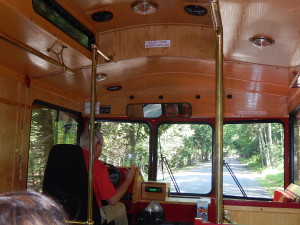 Next, it was all aboard the Door County Trolley for a narrated scenic tour of many of the natural splendors that abound. We stopped to take in breathtaking vistas of scenic bluffs overlooking Green Bay and our knowledgeable guide informed us about local legend and lore during the hour-and-a-half long tour.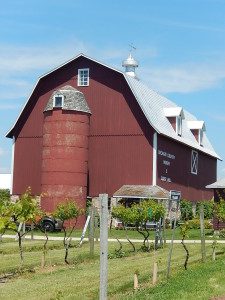 It may have been a little early in the day to imbibe in adult beverages, but few could resist tasting the local wines at Orchard Country Winery & Market in Fish Creek. Yes, many of them are made with cherries. We particularly liked the Cherry Chardonnay and the Lauren Elizabeth, a dry blend of La Crescent grapes and Honeycrisp apples. In addition to the wines, of which there are about 32 that are offered, the market features gourmet salsas, dressings, mustards, pie fillings, dried fruits, juices and syrups and toppings. If you're looking for cherry barbecue sauce, cherry jalapeno spread, 100% tart cherry juice or cherry almond syrup, this is the place.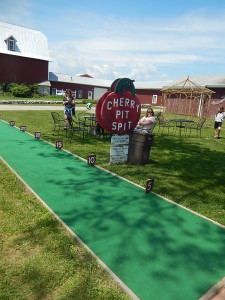 Outside the building is something most people haven't seen—a cherry spitting alley where guests can compete with each other to see who can spit their pits the furthest. It's harder than you think to get a good distance, and just another reason to go back.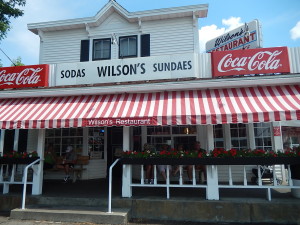 We were in for another treat with lunch—and dessert– at Wilson's Restaurant & Ice Cream Parlor in Ephraim, a landmark since 1906. The popular restaurant features an old-fashioned soda fountain with homebrewed draft root beer and jukeboxes. As you might imagine, the hamburgers were top-notch and yes, there were fried cheese curds aplenty for our table to share and enjoy. Naturally, the root beer floats are among the best on the planet, and there is a large selection of other ice cream coolers, banana splits and extra thick malts and shakes.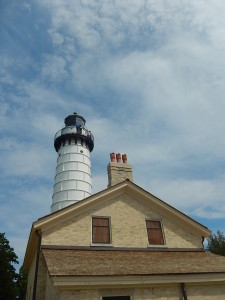 After that hearty lunch, it was time to check out the historic Cana Island Lighthouse in Baileys Harbor. Built in 1869, the lighthouse has withstood numerous storms and has witnessed great maritime dramas. It's known as one of the Great Lakes' most photographed lighthouses, and after climbing the circular stairway to the top, the views of Lake Michigan and the forested terrain are magnificent. Door County boasts the second largest concentration of lighthouses of any county in the United States, eleven, and this one is a prime example.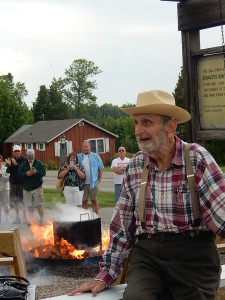 Dinner that evening was another authentic, uniquely Door County experience, with the famed fish boiled dinner at Rowley's Bay Restaurant, part of a vintage waterfront resort, Rowley's Bay Resort. As guests sit outside the property, a storyteller weaves the tale of the fish boil as he sits next to a fiery cauldron into which potatoes, onions and freshly caught Lake Michigan whitefish are cooked for dinner, the same method as was used 100 years ago by the Scandinavian settlers who populated the peninsula. The storyteller brings to life the rich history of the area, making for a memorable meal like no other. Inside, dinner is served buffet style, with the fish boil being the piece d'resistance. And you don't need to wonder if freshly baked cherry tarts were among the plentiful desserts.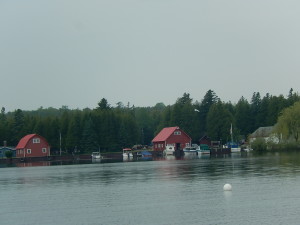 The next morning, we set off for via a ferry which crosses what's known as Death's Door, the waters off the northernmost tip of the peninsula where Green Bay and Lake Michigan merge. The verdant island is Wisconsin's largest at 35 square miles. It's been called the crown jewel of Door County, located north of the "tension line," the line marking the halfway point between the equator and the North Pole.
Washington Island was founded in 1850, and became home to immigrants who established the second oldest Icelandic settlement in the U.S.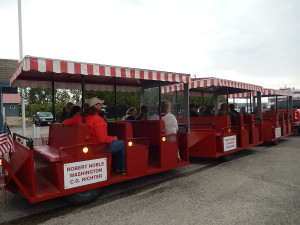 We boarded The Cherry Train for a narrated two-hour tour of some of its attractions which include The Art & Nature Center, featuring a working beehive plus exhibits and artifacts displayed in a 1904 schoolhouse building, The Farm Museum, which showcases life on an 1880s era farm with original buildings and Stavkirke, a church built by Island craftsmen blending ancient Norse tradition evocative of a Viking ship.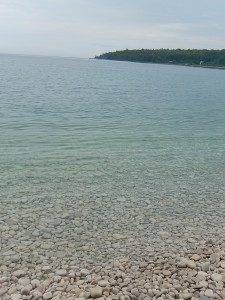 The final stop was at Schoolhouse Beach, one of only five beaches in the world with all- white limestone rocks. Much as one might be tempted, it is a crime to walk away with a single rock from the unique beach.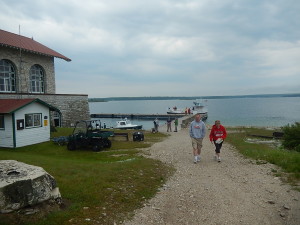 After the tour, a 15-minute ferry ride took us to another island, the protected Rock Island State Park, where no vehicular traffic is allowed. The ferry lands at a large stone house and adjoining buildings built by a wealthy inventor, C.H. Thordarson, who owned the island from 1910 until 1945, and hosted large parties on his property. Original carved wooden furniture still graces the inside of the two-story main house where guests can also tour exhibits tracing its fascinating history.
Rock Island features 10 miles of hiking trails, and up one of them is Wisconsin's oldest lighthouse, the Pottawatomie Lighthouse. Along the way were beautiful woods and a dusting of colorful wildflowers.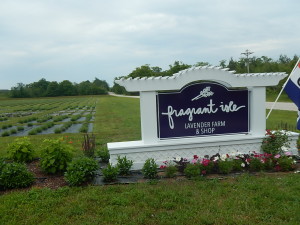 Speaking of flowers, back on Washington Island we visited Fragrant Isle Lavender Farm & Shop, one of the largest lavender farms in the Midwest with thousands of plants in its fields. The shop offers everything from lavender-based home, food and bath products – and even lavender products for pets. There is also artisanal ice cream and multiple varieties of fine chocolates made with lavender to take away, and of course, lavender soaps, body lotions and oils and sachets. It's a lavender lovers' paradise not to be missed.
If you really want to make like a Washington Islander, check out the historic establishment called Nelsen's Hall, a pub and restaurant where you can join the "Bitter's Club" and get a wallet card entitling you to mingle and dance with all the other Islanders that make this a happening hangout. What's required: downing a shot of Angostura bitters and being certified by the bartender. Do it—bitters are said to cure many ills.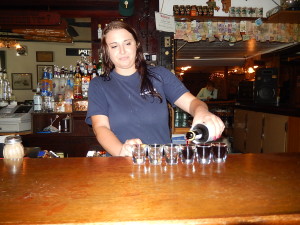 We took the ferry back to the mainland and headed for dinner at The Cookery Restaurant and Wine Bar in Fish Creek. The restaurant was founded in 1977 by Dick and Carol Skare and is known for specialties including their famous whitefish chowder– which has been on the menu since the very beginning–grilled local fish, a perch sandwich and various salads and quiches. The restaurant emphasizes sustainability and incorporating products from local dairies and farms to bring delicious homemade food to its customers.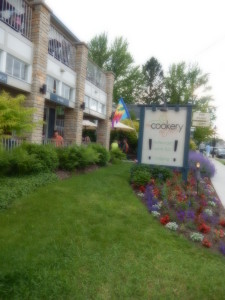 Yet instead of lingering over dessert, we rushed to make a curtain at Birch Creek Music Performance Center. It was "Hot Nights/Cool Jazz" that night with a rousing performance in the 500-seat renovated century-old barn the center calls home. Birch Creek has been bringing a variety of musical performances to Door County for 39 seasons now. It was the perfect last night of our visit.
In the morning we were off to the airport in Green Bay (GRB), about an hour's drive, sad to leave the area but thrilled to experience an ideal mid-summer getaway.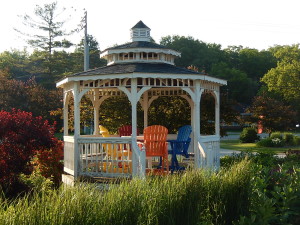 Dining:
Door County Coffee & Tea Company, 5773 Highway 42, Sturgeon Bay, WI (800) 856-6613, www.doorcountycoffee.com
Scaturo's Baking Company and Café, 19 Green Bay Rd, Sturgeon Bay, WI
(920) 746-8727, www.scaturos.com
Wilson's Restaurant & Ice Cream Parlor, 9990 Water Street, Ephraim, WI, (920) 854-2041, info@wilsonsicecream.com
The Cookery Restaurant and Wine Bar, 4135 Hwy 42, Fish Creek, WI (920) 868-3634, www.cookeryfishcreek.com
Fish Boil at Rowleys Bay Resort, 1041 County Road ZZ, Ellison Bay, WI, (920) 854-2385, 800-999-2466, www.rowleysbayresort.com
Al Johnson's Swedish Restaurant & Butik, 10698 N Bay Shore Dr, Sister Bay, WI,
(920) 854-2626, www.aljohnsons.com
Shopping:
Orchard Country Winery & Market, 9197 Hwy 42, Fish Creek, WI, 866-946-3263, www.orchardcountry.com
Fragrant Isle, 1350 Airport Road, Washington Island, WI, (920) 737-5064, www.fragrantisle.com
Arts:
Popelka Trenchard Glass Fine Art Glass Gallery & Studio, 64 W. Second Ave, Sturgeon Bay, WI (920) 743-7287, www.popelkaglass.com
Hands on Art Studio, 3655 Peninsula Players Rd., Fish Creek, WI (920) 868-9311, www.handsonartstudio.com
Entertainment:
Peninsula Players Theatre in the Garden, 4351 Peninsula Players Rd., Fish Creek, WI (920) 868-3287, www.peninsulaplayers.com
Birch Creek Music Performance Center, 3821 Cty E, Egg Harbor, WI (920) 868-3763, www.birchcreek.org
Touring:
Door County Trolley, www.doorcountytrolley.com
Washington Island Ferry, www.wisferry.com and www.wisferry.com/rock.html
The Cherry Train on Washington Island, www.cherrytraintours.com
Lodging:
Pheasant Park Resort, 2236 Mill Rd., Sister Bay, WI, (920) 854-7287, 800-392-3921, www.pheasantparkresort.com
Eagle Harbor Inn, 9914 Water St., Ephraim, WI, (920) 854-2121, 800-324-5427, www.eagleharbor.com
High Point Inn, 10836 Water St., Ephraim, WI, (920) 854-9773, www.highpointinn.com
Ridges Inn & Suites, 8252 Wisconsin 57, Baileys Harbor, WI, (920) 839-2127, www.ridgesinn.com
More information from Door County Visitor Bureau, 800-527-3529, www.doorcounty.com
–Hillary Atkin