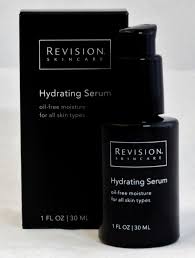 Facial oils may be all the rage– and we've tried many of them – but the true test of a product's efficacy is how well your skin feels in the morning after you've applied that product before bedtime.
The first time out with Revision Skincare's Hydrating Serum, skin felt smooth and moisturized, even in hot, dry summer conditions and sleeping in air-conditioning, which also tends to dry out the skin.
We loved the way the product felt, starting from the pump applicator which only took a couple of presses before the serum was dispensed, unlike other products that you have to pump and pump the first time. Plus, it was unscented, another big benefit–as we don't like to be overcome by perfumed skincare products, of which many of the major labels are guilty.
Full disclosure: as our skin does tend to be dry, we always apply a moisturizing cream over facial oil or serum, as we did with Revision. In more humid conditions, the serum alone might be enough at bedtime.
All this is not to say the product could be used during the daytime but for us, the daytime regimen starts with a tinted facial sunscreen—and we like to keep things basic and simple.
Recommended usage is twice a day, we should point out, and also that the product is oil-free, contains two types of hyaluronic acid along with watermelon, apple and lentil extracts.
Bottom line, this product enters the A-list of our beauty regimen. Thank you, Revision, for another great product!
(Revision Skincare Hydrating Serum, 1 fl. oz. pump bottle, $65 at doctors' offices and med spas)