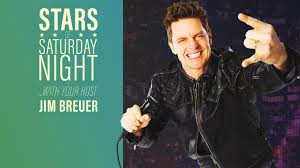 For all the millions of "Saturday Night Live" viewers who just can't get enough—the show has achieved its highest ratings in 20 years during the current season—there's some special programming to tide them over until the next original episode airs April 8, with Louis C.K. hosting.
Beginning this Saturday, March 25, HDNET Movies presents "Stars of Saturday Night," a week-long TV event featuring 24 films that have one thing in common.
They each star alums of SNL throughout its storied history including  Will Ferrell, John Belushi, Chevy Chase, Gilda Radner, Chris Farley, Eddie Murphy, Billy Crystal, Dan Aykroyd, Mike Meyers, Dana Carvey, Kristen Wiig, Bill Hader, Billy Murray, Andy Samberg, Amy Poehler, Tina Fey, Jason Sudeikis, Will Forte, Norm McDonald and Rachel Dratch.
Also on tap, a "Five-Timers Club" marathon on Friday, March 31 at 7pm ET,  spotlighting five films featuring five actors who have hosted the seminal series at least five times, including Alec Baldwin, Steve Martin, Drew Barrymore, Ben Affleck and Danny DeVito.
The film series is hosted by Jim Breuer, a cast member from 1995-1998. His featured film: 1999's "Dick," costarring Will Ferrell.
Other titles in the series include "Mr. Saturday Night " (Billy Crystal), "Harlem Nights" (Eddie Murphy), "Neighbors" (John Belushi), "Man of the Year" (Tina Fey, Amy Poehler) "Wayne's World" (Dana Carvey, Mike Myers) and "Celeste and Jesse Forever" (Andy Samberg).
For a complete schedule of films and times, visit http://www.hdnetmovies.com/fea ture/stars-of-saturday-night/
Meanwhile, as reported last week, SNL's final four episodes, beginning April 15, will break with tradition and air live simultaneously in all time zones across the U.S., 8:30 p.m. on the West Coast, 9:30 Mountain, 10:30 Central, and of course 11:30 Eastern, with a repeat at the show's normal airtime of 11:30 p.m. in the Pacific and Mountain time zones. Set to host the final four eps of the 42nd season are Jimmy Fallon, Chris Pine, Melissa McCarthy and Dwayne Johnson.