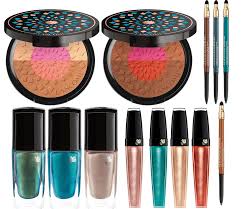 Leave it to Lancôme to release a bold and beautiful limited edition color collection for summer.
The warmer months always evoke feelings of freedom and relaxation and the Summer Swing collection aims to heighten that vibe with colors that include deep aquatic tones found in the Mediterranean, like sunlight sparkling off the sea or the hues of mosaic tiles on sun-dappled patios. The collection, which was designed by Lancome Global Makeup Creative Director Lisa Eldridge, also includes reflective and vibrant metallic shades.
The limited edition collection includes metallic liquid eyeshadows, bronze and blush compacts, waterproof eyeliner shades and nail polish.
Le Metallique Metallic Liquid Eyeshadow ($29) comes in five shades and features a cushioned applicator to apply the lightweight formula, which creates a riveting and bold look for summer eyes.
Belle De Teint Le Bronze and Blush ($47) is offered in two different color combos. Each blush-bronzer palette helps create a beautiful sun-glissed look with just the sweep of a brush. The Patio Mediterraneen features luminous shades while the Patio D'Une Nuit D'Ete provides more heated shades to warm up deeper complexions. The colors can be used together or separately as a blush and contour.
Le Stylo Waterproof eyeliner pencils ($27) come in five colors including gold, bronze and turquoise. The formula glides on easily and stays on for a long time.
Vernis in Love nail colors ($15.50) put the summer spirit at your fingertips with four new eye-catching metallic shades that are inspired by the hues of the Mediterranean summer.