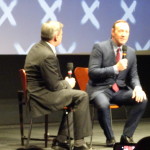 And now for the latest in innovative Primetime Emmy Award campaigning, from the folks who have a $6 billion warchest for original programming.
The streamer has taken over 24,000 square feet of office space across from the Motion Picture Academy in Beverly Hills for a month-long series of events it is calling FYSee, a play on FYC– For Your (Emmy)  Consideration. The confab kicked off May 8 with a screening of the first episode of the new season of House of Cards in the Academy's theater, followed by a Q&A with Ted Sarandos and Kevin Spacey.
There wasn't an empty seat in the house as Television Academy viewers got a preview of the first episode of the fifth season of the Emmy award-winning House of Cards, which will start streaming on May 30.
After it was established that both men were born in New Jersey, Spacey talked about his upbringing in the San Fernando Valley and how arts programs in the public schools at the time were well-funded. "When I was 13 we went downtown to see Jack Lemmon performing in a play and he conducted a workshop with us," Spacey said, and then went into an impression of Lemmon, who told the young teenager he was talented and should go to New York and study acting.
The rest, as they say is history, with Spacey going on to an illustrious an award-winning career on stage and screen– and being knighted by the Queen of England after running the old Vic Theatre in London for more than a decade. "It means my friends can call me Sir Spacealot," he jokingly said.
In addition to House of Cards — and further Emmy campaigning, Spacey has a very busy schedule ahead, prepping for two high profile gigs. He'll be hosting the 71st annual Tony Awards June 11 from Radio City Music Hall on CBS. Just three days later, he stars as famed civil rights  attorney Clarence Darrow in a one-man play at a very unusual venue, the Arthur Ashe Stadium in Flushing, New York, better known as the home of the US Open.
Meanwhile, Netflix's FYSEE continues with events for Grace & Frankie May 13, Luke Cage on May 15, The Crown May 18, Black Mirror May 19, a comedy conversation panel with Judd Apatow May 23, Bloodline may 24, Sarah Silverman on May 30, Master of None June 1, Dear White People June 4, Narcos on June 6 and Bojack Horseman on June 12