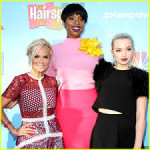 By Michael Menachem
We are in the heat of Emmy campaign season, and perhaps the award for Best Performance at an FYC event should go to the cast of "Hairspray Live!" Key players from NBC's December musical extravaganza, shot on the Universal Studios backlot, and top creative team members took the stage at the TV Academy's Saban Media Center in NoHo Friday night to make their case.
Performing live for an enthusiastic audience June 9 were the musical's stars Maddie Baillio and Jennifer Hudson, who joined co-stars Kristin Chenoweth, Garrett Clayton, Dove Cameron, Ephraim Sykes, Shahadi Wright Joseph and special guest Ricki Lake, who moderated the animated panel discussion.
Some of the cast members even joked that they made up their own versions of the experience based on the show's unrelenting live pace–such as "You Can't Stop To Breathe." (Compare to "You Can't Stop The Beat.")
"Hairspray Live!" was the fourth production of its kind for format originator NBC following the Peacock network's success with "The Sound of Music," "Peter Pan" and "The Wiz." Executive producers Craig Zadan and Neil Meron, no strangers to the format, assembled a stellar cast of Hollywood and musical theater talent that delivered nearly 12 million viewers last holiday season.
Joining Zadan and Meron were director Alex Rudzinski, composer/co-lyricist Marc Shaiman, co-lyricist Scott Whitman, choreographer Jerry Mitchell and production designer Derek McLane. (Show director Kenny Leon and key cast members Harvey Fierstein, who won one of "Hairspray's eight Tony Awards in 2003 including Best Musical, Ariana Grande, Sean Hayes, Martin Short, Derek Hough and Andrea Martin were unable to attend.)
Ms. Baillio strutted through the crowd at the top of the program, delighting attendees with her signature tune "Good Morning Baltimore" with hip-shaking, a glowing smile and powerful pipes.
NBC Chairman Bob Greenblatt welcomed everyone with a sincere note on the network's live musicals. "We love the fact that people look forward to these musicals every year," said Greenblatt. "With 'Hairspray,' there's a wonderful message of inclusion and diversity that is so important in our world today."
A ten-minute behind-the-scenes montage of show highlights, narrated by Kristin Chenoweth and Sean Hayes, provided a taste of the TV adaptation of the John Waters-helmed musical comedy, with views of the NBC Universal backlot as Baltimore, wigs upon wigs, discussion of the dance crazes of the 60s and most importantly, the need for golf carts zooming across the lot to the soundstage.
Ricki Lake, who played Tracy Turnblad in the original 1988 film, introduced all performers and creative team to roaring applause and the discussion began, a mix of behind-the-scenes stories, personal favorites from actors and real insight into the musical taking on a new form.
Maddie Baillio, who was among 1,000 young women auditioning for the part, was honored to have landed the role. "My first Broadway show was 'Wicked' and I got to perform with Glinda," said Baillio speaking of Chenoweth. "And she asked me to perform with her at one of her concerts and she was better than me and I wasn't happy about it," she joked and continued the humor with one of her favorite memories before going live: "Right before I went on to sing "Good Morning Baltimore," I was in the trailer with Sean Hayes getting ready and he asked 'Maddie, are you ready? 'Cause I'm a wreck!'"
If Tracy Turnblad's character is the brains of the story, then Jennifer Hudson's Motormouth Maybelle is the heart. Hudson took to the stage as the closer with the uplifting "I Know Where I've Been." "I wanted to make sure that I carried the message that these guys wrote the lyrics for," said Hudson of songwriters Shaiman and Whitman. She was of course referring to the themes of the show–integration, equality and love.
Veteran choreographer Jerry Mitchell spoke to the demands of the cast and the crew. "It becomes a production you learn in four weeks and then you add and add and add and these guys have to be on their marks," said Mitchell.
"If you think of all the things as a lighting director that could go wrong, you could be in therapy for the rest of your life," said director Alex Rudzinski. "As a viewer, hopefully you are protected from seeing the logistics and the process, like if you saw that Maddie had 45 seconds."
Zadan and Meron summed up the situation succinctly. "We had the nerve to ask Bob Greenblatt to do a live musical and he had the nerve to say yes," said Zadan. "He never paused. He's so instinctive and he has such great taste and he appreciates everything from the artist's point of view. We started with 'The Sound of Music' and were a joke in town and we woke up in the morning after and saw the ratings through the roof and noticed we created a new genre for television. I think by far 'Hairspray' was the most ambitious musical on TV so far."
Meron spoke on the timely themes contained in the production: "Unfortunately, the issues that existed in 1962 still exist today," he said. "We thought we would present it with a spirt of joy. Messages of being body positive, the racial inequality, it just seemed like the right time."
It was noted during the discussion that live television musicals like "Hairspray" have not only had a cultural impact, but have played a huge role in Broadway's booming box office numbers—alongside the "Hamilton" factor, of course.
Next up on NBC's slate of musicals: "Jesus Christ Superstar," set for Easter Sunday 2018 and then "Bye Bye Birdie" in December, starring Jennifer Lopez.