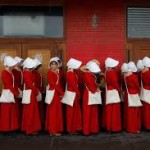 The Television Critics Association (TCA) Awards nominations are the first of the current television season out of the gate, and there are some clear trends. NBC's freshman hit "This Is Us" scored a number of nods as did Hulu's "The Handmaid's Tale" and Netflix's "Stranger Things" and "The Crown." But it wouldn't be in awards contest without the participation of Julia Louis Dreyfus, who was nominated again for HBO's "Veep."
HBO leads all networks with 12 nominations, with FX at 11, Netflix at 10 and NBC with seven. The TCA Awards use the same eligibility period as the Emmys: shows that aired between June 1, 2016 and May 31, 2017.
Winners will pick up their statuettes on Aug. 5 in a ceremony at the Beverly Hilton Hotel hosted by Tony and Emmy winner Kristen Chenoweth.
Here are the nominations:
PROGRAM OF THE YEAR
"Atlanta"
"Big Little Lies"
"Stranger Things"
"The Handmaid's Tale"
"The Leftovers"
"This Is Us"
BEST NEW PROGRAM
"Atlanta"
"The Crown"
"The Good Place"
"The Handmaid's Tale"
"Stranger Things"
"This Is Us"
BEST DRAMA SERIES
"Better Call Saul"
"Stranger Things"
"The Americans"
"The Crown"
"The Handmaid's Tale"
"This Is Us"
INDIVIDUAL ACHIEVEMENT IN DRAMA
Sterling K. Brown, "This Is Us"
Carrie Coon, "The Leftovers" and "Fargo"
Claire Foy, "The Crown"
Nicole Kidman, "Big Little Lies"
Jessica Lange, "Feud: Bette and Joan"
Elisabeth Moss, "The Handmaid's Tale"
Susan Sarandon, "Feud: Bette and Joan"
BEST COMEDY SERIES
"Atlanta"
"black-ish"
"Fleabag"
"Master of None"
"The Good Place"
"Veep"
INDIVIDUAL ACHIEVEMENT IN COMEDY
Pamela Adlon, "Better Things"
Aziz Ansari, "Master of None"
Kristen Bell, "The Good Place"
Donald Glover, "Atlanta"
Julia Louis-Dreyfus, "Veep"
Issa Rae, "Insecure"
Phoebe Waller-Bridge, "Fleabag"
BEST MOVIE/MINISERIES/SPECIAL
"Big Little Lies"
"Fargo"
"Feud: Bette and Joan"
"Gilmore Girls: A Year in the Life"
"The Night Of"
"Wizard of Lies"
BEST REALITY PROGRAMMING
"The Circus"
The Great British Baking Show"
"The Keepers"
"Leah Remini: Scientology and the Aftermath"
"Shark Tank"
"Survivor: Game Changers"
BEST NEWS & INFORMATION
"Full Frontal With Samantha Bee"
"Last Week Tonight With John Oliver"
"The Lead With Jake Tapper"
"O.J.: Made in America"
"Planet Earth II"
"Weiner"
BEST YOUTH PROGRAMMING
"Daniel Tiger's Neighborhood"
"Doc McStuffin"
"Elena of Avalor"
"Odd Squad"
"Sesame Street"
"Speechless"