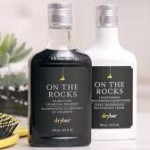 Charcoal used to be just something you threw into the grill, lit, waited for it to smolder and started cooking Not any longer. The substance has made its way into masks and other facial products and now from Drybar, into shampoo and conditioner.
The newly launched On the Rocks products promise to leave your hair super-clean and expertly conditioned, the ideal starting position for a great blowout. The shampoo and conditioner are both made with activated charcoal. In the shampoo, it gently removes all traces of accumulated products on the hair and other debris while it lathers in softness and shine. The conditioner hydrates and de-tangles as it drenches your tresses in nourishing essential oils.
Both products have what Drybar is calling a sensual woods scent– just delightful.
On the Rocks Clarifying Charcoal Shampoo and Lightweight Replenishing Conditioner (8.5 fl.oz/250ml) are sold for $26 each at Drybar locations nationwide and at Sephora.