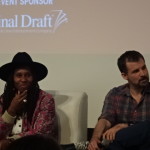 What a difference 48 hours can make. On Friday night, Lena Waithe was one of a panel of Emmy-nominated writers featured in the annual Writers Guild of America West's Sublime Primetime event.
Two nights later, she became the first black female recipient ever to receive an Emmy Award for Outstanding Writing for a Comedy Series, an honor she shared with Aziz Ansari for an episode of Master of None called "Thanksgiving."
Waithe, and of course Ansari, both also appear in the Netflix comedy. In co-writing the episode, she drew on her own experiences of coming out to family members who were, shall we say, not exactly open to hearing about her sexual orientation.
Her Emmy was one of a number of landmark wins for women and people of color, including trophies for Donald Glover, Sterling K. Brown and Riz Ahmed.
Sublime Primetime, which was sponsored by Variety and moderated by Larry Wilmore before a packed house at the Writers Guild theater in Beverly Hills, also featured Emmy-nominated writers Steven Davis & Kelvin Yu (Bob's Burgers), The Duffer Brothers (Matt & Ross Duffer, Stranger Things), Jo Miller (Full Frontal with Samantha Bee) and Gordon Smith (Better Call Saul).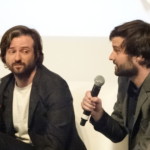 All of them were asked how they got their start in the business, or about their career paths. For Miller, who is Samantha Bee's veritable right hand, her background was most unique: she was a scholar of medieval Jewish history before she started writing comedy for The Daily Show in her early 40s. The Duffer Brothers, who said they grew up loving movies, went to  Chapman University and interned for Leonardo DiCaprio's production company Appian Way. Waithe also interned and then worked at a literary agency. Matt, Ross and Lena have something else in common – they were all born in 1984.
Successful people in the business are often asked about what advice they would give those coming up in it and this event was no exception. Waithe said she was once told by one of her employers, "Be great," and passed that along. Miller seconded with "be great—and be you." Smith told people to be passionate about their work. The Duffers, not especially known for comedy, used some for their advice. "Say no to money. They don't understand that. Walk away."
That just might be easier in theory than in practice, but here's another specific for aspiring writers. Smith said, "It's not a scene until someone wants something."
Now that's advice that could be put to use on many occasions.