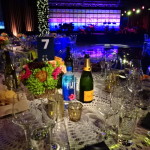 It is known as one of the most respected hospitals in the United States and so it was only fitting that a lot of stops were pulled out for the 75th anniversary gala celebration for Saint John's Health Center in Santa Monica on October 21.
As central as the hospital is to the city of Santa Monica and to Los Angeles County as a whole, so is the Ferris wheel on the iconic Santa Monica Pier.
That's why a scaled down but working version of the ride was the centerpiece of the cocktail hour for the festive evening which was held at 3Labs in Culver City. Yes, guests garbed in black tie were lining up to get on board, many of them clutching tubs of cotton candy and other carnival snacks that were also provided along with more traditional hors d'oeuvres.
Inside the venue, which is reminiscent of a smaller and newer Barker Hangar at Santa Monica Airport, the beautifully-dressed room with tables for ten was filled to capacity as Sister Maureen Craig gave the opening invocation.
Marcel Loh, CEO of Providence, which owns Saint John's, welcomed the crowd with Gala chair Kathy Yawitz. They introduced a number of "Friends of Saint John's," appearing on the stage and also on video. It was a roster that included Vin Scully, former Los Angeles mayor Richard Riordan, actor Jay Huguley and actress Helen Hunt.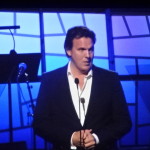 Huguley, who is known for his roles on some of television's top dramas including "The Walking Dead," "True Detective" and "Treme," spoke movingly of the doctors at Saint John's and the Pacific Neuroscience Institute (PNI),  Dr. Daniel Kelly and Dr. Santosh Kesari, who treated him for what turned out to be a benign tumor.
The mission of Saint John's is to provide healthcare that is comprehensive, compassionate and consistent with the values set forth by the hospital's Catholic founders. The health center prides itself on carrying out a legacy of innovation, creativity, research and compassionate care.
The event, called "The Future of Excellence in Personalized Healthcare," honored the community of professionals at Saint John's– physicians, researchers, staff, trustees and volunteers whose overriding goal is working to save lives.
Other patients of Saint John's' physicians also shared inspirational stories of such compassionate care, resulting in returns to good health– and that is always something to celebrate.
Cast members from gospel rock 'n' roll musical "Shout Sister Shout" electrified the audience of 700 people with performances of numbers from the show. The guest list also included Jim Toth,Loni Love and Heather Morris.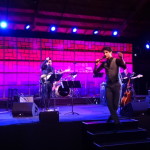 After the gourmet dinner prepared by the Kitchen for Exploring Foods, which featured oyster bars and Ketel One vodka martinis stations throughout the room, the night's headliner took the stage.
Darren Criss, the Emmy-nominated actor, singer and songwriter best known from the hit show "Glee," performed a rousing set of about eight numbers that included "Cough Syrup" and "Hopelessly Devoted to You."
The Gala's honorary event committee included Julie Andrews, Jennifer Beals, Annette Bening & Warren Beatty, Don Cheadle, Embeth Davidtz & Jason Sloane, Zooey Deschanel, Allyson Felix, David Foster, Jennifer Garner, Armie Hammer & Elizabeth Chambers, Tom Hanks & Rita Wilson, Jay Huguley, Michael Keaton, Johnny Mathis, Katharine McPhee, Angela Lansbury, Chris O'Donnell, P!nk, Dennis Quaid, Ray & Anna Romano, Vin & Sandy Scully, Jane Seymour, Maria Shriver, Reese Witherspoon & Jim Toth.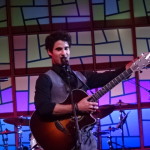 The event raised a record-breaking $1.4 million which will benefit the health center's vital programs and services.