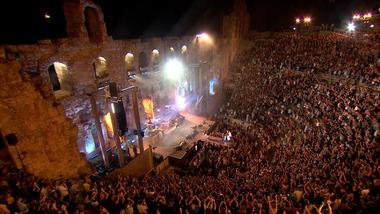 The 11-time Grammy award-winning Foo Fighters have performed all over the world, but never in Greece, until this past July when they gave an historic concert at the Acropolis in Athens.
"We've done some crazy things over the last 20 years, but I think this might be the craziest thing the Foo Fighters have ever done," says frontman Dave Grohl at the beginning of "Foo Fighters – Landmarks Live in Concert: A Great Performances Special," airing tonight on PBS stations at 10 p.m. and streaming beginning tomorrow on PBS.org.
A capacity crowd of 5,000 filled the ancient amphitheater to hear the band perform hits including "Times Like These," "Walk," "My Hero," "Best of You" and "Everlong."
The program is hosted by Red Hot Chili Peppers drummer Chad Smith and includes scenes of him interviewing Greece's ministers of culture and tourism and showing band members Grohl, Taylor Hawkins, Pat Smear, Nate Mendel, Chris Shiflett and Rami Jaffee around Athens and interviewing them about their experiences.
The famed Odeon of Herodes Atticus theater on the slopes of the Acropolis, built in 161 A.D. and renovated in 1950, is an iconic setting for the Foos, which Grohl, who had been the drummer for Nirvana, formed after the death of Kurt Cobain.
"The Acropolis hasn't been rocked that hard in a while – maybe 2,500 hundred years, give or take. It was an amazing experience, made extra special that I could spend it with my longtime friends, the mighty Foos," Smith said.
"Landmarks Live in Concert" was created by veteran documentary and live event producer/director Daniel E Catullo III. It features a lineup of global music superstars performing at locations of either historical or personal significance around the world.
"Logistically, this was the largest undertaking and production I've ever done," Catullo said. "Almost a year of planning, hundreds of people on the crew, coordination with the Greek Government, major logistics and coordination with the band, and putting a rock show in an ancient amphitheater. The energy of the crowd and seeing the band perform in such a historic place is something I will never forget. This was one of the most amazing experiences of my life."
The series, produced by THIRTEEN, launched in January with Alicia Keys performing at multiple locations around New York City, including Harlem's Apollo Theater. Subsequent episodes featured Brad Paisley at West Virginia University and Andrea Bocelli live at Florence's Palazzo Vecchio.