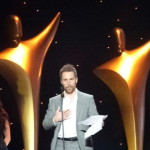 The seventh annual Australian Academy of Cinema and Television Arts AACTA International Awards, first out of the gate during winter awards season, again set the tone for what is to come in the next two months before the Oscars.
And very appropriately to being first out of the gate, the ceremony itself was fast and sleek– as viewers in Australia will see when it is televised on Foxtel. There will be no complaints of the proceedings going on for too long, only complements about what a tight show it is.
Hosted by Hugh Sheridan at Hollywood's Avalon on January 5, two fantastic films dominated the proceedings.
Three Billboards Outside Ebbing, Missouri took three prizes, including best film while I, Tonya garnered awards for its leading and supporting actresses.
Three Billboards, a revenge drama which stars Frances McDormand as a mother pressuring police to find the murderer of her daughter, also earned best screenplay honors for writer-director Martin McDonagh and best supporting actor for Sam Rockwell (who would go on to win the Golden Globe for the role a few nights later.)
"I've always admired the work coming out of your country, including Breaker Morant and Gallipoli," Rockwell said in his acceptance speech. "Three Billboards was special – one of the handful of projects where everything aligned perfectly, thanks to the talents of Martin McDonagh."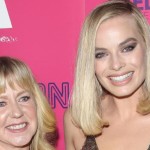 Margot Robbie took home the best lead actress prize for her portrayal of Tonya Harding in I, Tonya, and Allison Janney claimed the supporting actress award for playing Harding's hard-core mother. Neither actress was able to attend, but both sent video messages expressing their gratitude.
Gary Oldman was named best lead actor for playing Winston Churchill in Darkest Hour.
"I've known Hulk Hogan," he began jokingly before turning serious, as he took the stage to accept his trophy. "I feel like I now have membership to a very exclusive club."  Oldman would also go on to win a Golden Globe for playing the Prime Minister.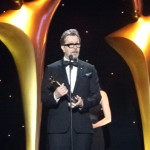 One of Australia's – and the world's favorites, Hugh Jackman, had a front row seat at the ceremony. He was nominated for best lead actor alongside Oldman, and many people gave him a shoutout from the stage.
Aussie (and global) icon Nicole Kidman was also in attendance. She had won two awards at the ceremonies in Sydney several weeks ago, and in her speech, she recalled how being born and bred in Australia made her who she is today and how she started working at the age of 14 with great directors including Phillip Noyce and Jane Campion.
Christopher Nolan took the best directors prize for the World War II drama Dunkirk.
Another high point of the ceremony was Delta Goodrem performing Olivia Newton John's classic hit "I Honestly Love You."
Some of Australia's top film and television stars joined host Hugh Sheridan on stage to present awards, including Jai Courtney, Josh Lawson, Mallory Jansen, Liam McIntyre, Daniel MacPherson, Josh Thomas and this year's AACTA Longford Lyell recipient Phillip Noyce.
"On behalf of the Australian Academy, I congratulate all our winners tonight," AFI | AACTA CEO Damian Trewhella said after the show. "We have again seen a dynamic mix of international and Australian screen achievement honored, celebrating some of the world's biggest names in film, including Australian actress Margot Robbie who we're very proud to count among tonight's winners. The AACTA International Awards add a uniquely Australian voice to the global discussion of screen excellence, and have become an early forecaster of which performers, practitioners and productions will be recognized during the awards season."
Other celebrity guests at the ceremony included Keith Urban, Abbie Cornish, Samara Weaving and Radha Mitchell.
Here is a complete list of the nominees and winners:
AACTA International Award for Best Film
CALL ME BY YOUR NAME
DUNKIRK
LADY BIRD
THE SHAPE OF WATER
THREE BILLBOARDS OUTSIDE EBBING, MISSOURI – WINNER
AACTA International Award for Best Direction
CALL ME BY YOUR NAME – Luca Guadagnino
DUNKIRK – Christopher Nolan – WINNER
I, TONYA – Craig Gillespie
LADY BIRD – Greta Gerwig
THE SHAPE OF WATER – Guillermo del Toro
AACTA International Award for Best Screenplay
CALL ME BY YOUR NAME – James Ivory
DUNKIRK – Christopher Nolan
GET OUT – Jordan Peele
LADY BIRD – Greta Gerwig
THREE BILLBOARDS OUTSIDE EBBING, MISSOURI – Martin McDonagh – WINNER
AACTA International Award for Best Lead Actress
Judi Dench – VICTORIA & ABDUL
Sally Hawkins – THE SHAPE OF WATER
Frances McDormand – THREE BILLBOARDS OUTSIDE EBBING, MISSOURI
Margot Robbie – I, TONYA – WINNER
Saoirse Ronan – LADY BIRD
AACTA International Award for Best Lead Actor
Timothée Chalamet – CALL ME BY YOUR NAME
Daniel Day-Lewis – PHANTOM THREAD
Hugh Jackman – LOGAN
Daniel Kaluuya – GET OUT
Gary Oldman – DARKEST HOUR – WINNER
AACTA International Award for Best Supporting Actress
Mary J. Blige – MUDBOUND
Abbie Cornish – THREE BILLBOARDS OUTSIDE EBBING, MISSOURI
Allison Janney – I, TONYA – WINNER
Nicole Kidman – THE KILLING OF A SACRED DEER
Laurie Metcalf – LADY BIRD
AACTA International Award for Best Supporting Actor
Willem Dafoe – THE FLORIDA PROJECT
Armie Hammer – CALL ME BY YOUR NAME
Tom Hardy – DUNKIRK
Ben Mendelsohn – DARKEST HOUR
Sam Rockwell – THREE BILLBOARDS OUTSIDE EBBING, MISSOURI – WINNER