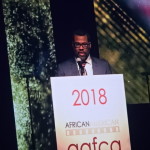 It was a festive evening for the 9th annual African American Film Critics Association Awards held February 7 at Hollywood's Taglyan Center with ceremonies hosted by Nischelle Turner of Entertainment Tonight.
But the night belonged to Jordan Peele, the writer, producer and director of the groundbreaking racial horror film Get Out, which has been among the top films dominating the conversation during this awards season.
Peele was honored not only with trophies for best picture, best director and best screenplay—and the film's star, Daniel Kaluuya, won for best actor–but for winning the organization's Horizon Award.
Alcon Entertainment, which is entering into its third decade in business, received AAFCA's Cinema Vanguard Award, which was accepted by the company's co-founders Broderick Johnson and Andrew Kosove. Alcon is responsible for an impressive slate of quality films including Blade Runner 2049, The Blind Side and The Sisterhood of the Traveling Pants.
The Innovation Award presented by Nissan was given to director Ava Duvernay, a woman who has open the doors of possibility in Hollywood with her body of recent and acclaimed work which includes Selma, The 13th, Queen Sugar and the upcoming Disney film A Wrinkle in Time. She is the first black woman to direct a feature with a budget over $100 million—and she told the crowd in no uncertain terms that the movie's young star Storm Reid was one to watch.
Rob Reiner received the Stanley Kramer Award for Social Justice and had the crowd in stitches as he tried to direct elements of the show, like the height of the podium– which was very high. But his speech quickly turned serious when he spoke of filming the Medgar Evers shooting in Mississippi 22 years ago.
And then he turned to politics, discussing Trump supporters. "They're working class – no, they're racist. Trump started out with the denigration of Obama and then didn't know who David Duke was and moved on to saying there were good people on both sides in Charlottesville and then talked about preventing people from shithole countries from coming here. This is the last battle of the Civil War. We are fighting and we are going to win. We can overcome. We can take a whole leap of faith. Were all on the front lines to preserve this democracy."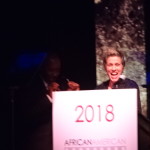 All of the honorees received standing ovations, as did actress Francis McDormand who won the AAFCA as best actress for her role in Three Billboards Outside Ebbing, Missouri. McDormand, who has already won a number of awards for the part of a mother angry about the lack of justice for her daughter's murder had skipped the Oscar nominees luncheon earlier in the week but said she really wanted to be at this show.
"I'm tired of patting myself on the back," she said. "But my husband said awards season should be like a Jubilee. I got a taste of real fury – not anger, which can be managed, not rage, but white, hot fury that leaves ashes in its wake. It touches audiences and the other characters just punch them in the gut that makes us a congregation."
Duvernay's Queen Sugar took the prize for top television drama while black-ish won best TV comedy.