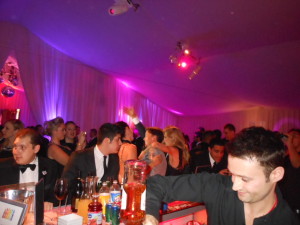 Preparing one of Hollywood's highest profile banquets for 1,000 people is in and of itself worthy of an award. And even if you done it 10 years running, as Chef Wayne Elias has with his Crumble Catering Company in collaboration with Chef Gordon Ramsay, working on the Elton John AIDS Foundation Oscar viewing dinner and afterparty is the most exciting night of the year.
Only a handful of catering companies have the know-how and logistics to handle such a huge event. The menu planning process — and subsequent tastings–starts in November for the six passed hors d'oeuvres and the five-course meal that is served to guests.
Elias creates the hors d'oeuvres while Ramsay does the dinner and over the past decade there are certain items that never go out of style. like Elias' grilled cheese sandwiches on raisin bread with mascarpone, cut into little triangles.
Easy-to-eat is a key ingredient in everything that is served to the high-profile attendees– nothing messy or overly complicated with too many sauces– just the highest quality, with often locally sourced and organic ingredients to delight the palette. Food trends are also taken into consideration in keeping with the fun spirit of the evening, Hollywood's biggest night.
"We don't want to do things that are crazy, and we have to consider dietary restrictions and make sure there is a selection for the main course and that there are vegetarian and vegan options," says Elias, who supervises a staff of 125 servers, 14 bartenders, 6 captains, 45 cooks and 12 dishwashers in a temporary kitchen set up at the West Hollywood Park.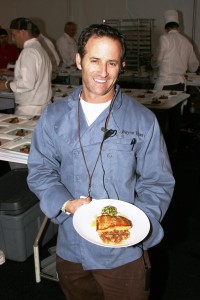 Some of the food is pre-prepped at Elias's restaurant in Los Feliz, Rockwell, but most is prepared on-site at the satellite kitchen that is built to his specifications.
"Most challenging is the timing of what needs to be done, from finishing the plating to serving the banquet in waves" he says. "You have to be thoroughly organized and on point. Even though it's my 10th year, it's like my first year. I'm 100% hands-on."
So here's what's on the menu. Appetizers– in addition to Elton John's favorite grilled cheese raisin bread sandwiches–include homemade Yukon potato chips with salmon tartare and seared duck breast on potato latkes with frisee and raspberry aioli.
Entrée choices for dinner are citrus steamed sea bass with grapefruit, lemon and lime, Jasmine rice with fava beans and chili oil or grilled New York steak with truffle fingerling potato with Parmesan and creamed spinach.
After that beautiful dinner served during the Oscar ceremony, and which must be completed by the time the last award is handed out, there still is more food to come in the post-party, which is known to rage late into the night.
Guests can pick and choose from a sweets and savory buffett designed around comfort-friendly food like short rib sliders and chilled shrimp cocktail, spicy chicken meatballs with lemongrass ginger dip and Portobello mushroom French fries. For dessert, five choices including cake pops and chocolate bon bons. As one experienced guest noted, "There is no calorie counting on this night, there's just huge heapings of fun and excitement."
–Hillary Atkin