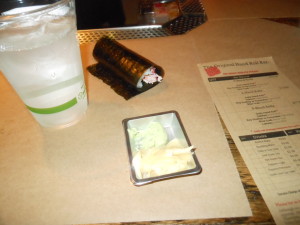 It's kind of like the Japanese version of In 'n Out Burger. The concept of Kazu Nori is so of-the-moment that it is sure to be the template for a new kind of sushi place – it sells only hand rolls, and at a great price. It's the brainchild of celebrated sushi chef Kazunori Nozawa, founder of Sushi Nozawa and now the Sugarfish chain of restaurants.
Our first visit found us waiting in line for about 15 minutes, which was to be expected since it was a Saturday night at dinner time and there had just been a huge article about the place written by Jonathan Gold in the Los Angeles Times. Since we were going to be in the neighborhood that night, it was the perfect occasion to check it out.
Keeping things simple also keeps things moving. Guests are seated at a bar and then fill out a menu card with their order to give to their server, who passes it on to the sushi chefs.
Most people come in for the set menus which include three hand rolls for $10.50, four hand rolls for $13 or five hand rolls for $17.50. A 16% service charge/tip is added as well as tax, but still an amazing deal for what you get, which includes hand rolls of bay scallops, blue crab, toro, yellowtail salmon and in the five flight menu, lobster.
They are all served warm with an admonition to eat them right away. Not a tough thing to do. Individual roles can also be ordered and there is beer and sake available as well as non-alcoholic beverages.
Kazu Nori, 421 Main St., Los Angeles, CA 90013, 213.493.6956, www.kazunorisushi.com