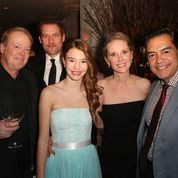 What better way to kick off the holiday season than a festive premiere event for Hallmark Hall of Fame's comedy "One Christmas Eve," which stars Anne Heche, Kevin Daniels, Carlos Gomez and Brian Tee in a holiday caper with the tagline "Chaos is coming to town."
Held on November 18 at West Hollywood's Fig & Olive restaurant, the cast took to the red carpet along with canine stars of the film – beagle puppies that are an integral and heartwarming part of the story.
Guests enjoyed cocktails and hors d'oeuvres before heading upstairs to dinner in a private room where they were also treated to clips from the film and a special surprise– as each received a plush beagle with the full length film on a dog bone shaped USB flash drive hanging from its collar.
There were oohs and aahs all around as the stuffed animals were handed out and carefully tucked away at the beautifully decorated three-course sit-down dinner.
Hallmark Hall of Fame president Brad Moore was in high spirits as he gave a speech that celebrated the new partnership between Hallmark Hall of Fame and the Hallmark Channel where, for the first time ever, a Hall of Fame movie will premiere– rather than on a broadcast network.
Moore also noted that Heche has now starred in three Hallmark Hall of Fame movies, while her boyfriend, James Tupper, only has one on his credits, while welcoming him to jump on board others.
Other cast members attending included Griffin Kane and Ali Skovbye, alond with Crown Media Holdings President and CEO Bill Abbot. Director Jay Russell and executive producer Brent Shields were also on hand for the festivities.
"One Christmas Eve" premieres on the Hallmark Channel on Sunday, November 30 at 8 p.m. ET/PT as part of the network's "Countdown to Christmas" programming lineup.