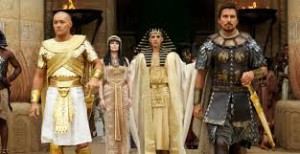 The opulence, sophistication and the sheer spectacle of ancient Egypt as the backdrop for one of the most resonant tales in the Old Testament is brought to vivid, 3-D life by director Ridley Scott in "Exodus: Gods and Kings."
It's the story of Moses, played evocatively here by Christian Bale, who was raised into a life of Egyptian privilege and "knighthood" before learning he is actually the son of Hebrew slaves and is exiled to the desert by Ramses, (Joel Edgerton) the Pharoah's son and a rival for the ruler's attention and affection.
With a gritty realism and an unexpected depiction of the character of God, Moses takes his place as leader of the Jewish people to deliver them from slavery in Egypt, sacrificing for a time the family life he's created.
The religious may find the film not faithful enough to scripture. The secular will enjoy the dramatic interpretation of a story for the ages, complete with vivid and haunting imagery of the ten plagues.