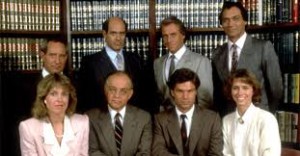 It's hard to believe that the iconic, highly acclaimed TV series "L.A. Law" closed out its run on NBC 20 years ago– and that its 22 episodes of Season One are just now being released to DVD, available beginning today from Shout! Factory.
Created by award-winning writer-producers Steven Bochco and Terry Louise Fisher, the legal drama debuted in 1986 and held court during primetime for an eight-season run, racking up 15 Emmy Awards, including four as outstanding drama, as well as four Golden Globes and a slew of other trophies.
For those who didn't see it the first time around, the show takes viewers on an often wild ride inside the inner sanctum of the fictional Los Angeles law firm of McKenzie, Brackman, Chaney & Kuzak. It stars Harry Hamlin, Susan Dey, Jimmy Smits, Corbin Bernsen, Jill Eikenberry, Alan Rachins, Michele Greene, Michael Tucker, Susan Ruttan and Richard Dysart.
The team of ambitious, attractive and competitive attorneys face the conflicts between their personal desires, their obligations as lawyers, and their principles as human beings. A portrayal of the law and its litigators that was both realistic and irreverent, "L.A. Law" captivated millions of viewers with its hardboiled drama, rich characters and ironic wit while tackling emerging social issues of the time—issues that are still being debated, like abortion, gay rights, sexual harassment and racism.
The series also depicted class issues and social tensions that arose between the highly-paid senior partners and their smaller pay-checked junior staff.
There were also soap opera elements, especially involving Bernsen's character, divorce attorney Arnie Becker, an inveterate womanizer who embodied the 1980s nouveau riche lifestyle and Susan Ruttan as Roxanne, his motherly secretary.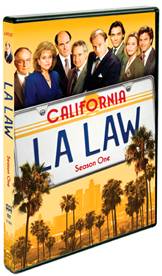 Television historians consider the series, a production of Twentieth Century Fox Television, the progenitor to other notable legal dramas including "Ally McBeal," "Boston Legal," "The Practice" and "Suits."
Several of "L.A. Law's" cast members are still mainstays of series television, with Smits appearing on FX's "Sons of Anarchy," Bernsen on USA's "Psych" and Hamlin on AMC's "Mad Men."
Hamlin told the Los Angeles Times that he developed a running gag on "L.A. Law" by always eating in the conference room scenes and that he considers the pilot script among the most brilliant he's ever read.
Eikenberry and Tucker, married in real life, created a pop-culture sensation when their characters discussed a sexual technique mysteriously called "The Venus Butterfly."
The sexual peccadilloes of almost the entire cast would become fodder for many episodes of the series.
Perhaps its true legacy is the way it shaped how Americans viewed the law and lawyers. Although its characters were fictionalized and glamorized, the number of applicants to law school rose because of the way it depicted the profession and as one law school dean remarked, "the infinite possibilities for sex."
–Hillary Atkin