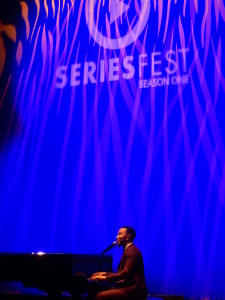 It's always challenging putting on a first-time event and the organizers of the first SeriesFest, which took place June 18 through 21st in Denver, pulled it off in fine fashion.
The festival spotlighted independent episodic television along with entries from cable and broadcast networks that were screened at Denver's Sie FilmCenter– home of partner organization the Denver Film Society – from morning until late in the evening.
Many featured Q&A's with the creators and talent after the screening and there was ample time for networking between showings and at afterparties that took place at Union Station and Denver's Cable Center.
SeriesFest kicked off with a dramatic evening at one of the nation's most spectacular amphitheaters, Red Rocks outside Denver. After a private reception at the trading post down the hill with its spectacular views of the natural rock formations, organizers Randi Kleiner and Kaily Smith Westbrook welcomed the crowd and Colorado Gov. John Hickenlooper appeared on stage to inaugurate the festival.
But in the middle of comedian Whitney Cumming's set, a surprise downpour sent audience members scrambling for cover. Yet the storm didn't dampen the reception for headliner John Legend, who played a grand piano and performed some of his greatest hits in an hour-long set that also included a well-received cover of Bruce Springsteen's "Dancing in the Dark."
Twenty-six official selections screened in competition and showcased programs by emerging and established creators and directors. The pilots featured talent including Malcolm McDowell, John Glover, Alan Thicke, Missy Pyle, Keith Powell, Michael Raymond James, Rachel Dratch and Mary Lynn Rajskub.
ABC screened two new dramas, "Quantico" and "Blood and Oil," starring Don Johnson, Delroy Lindo and Chace Crawford. USA Network showcased a new original series about computer hacking, "Mr. Robot," starring Christian Slater and Rami Malek, who plays a young programmer who works as a cyber-security engineer by day and as a vigilante hacker by night.
Starz previewed the first two episodes of Season 2 of "Survivor's Remorse," about a star basketball player in Atlanta and the challenges he and his family face in adopting from their modest roots to fame and fortune.
Also screened were HBO's "Sex On//"; the series premiere of AMC's "Humans"; the North American premiere of BBC Four's "Detectorists"; a sneak preview of FX's "Sex&Drugs&Rock&Roll"; the world premiere of Condé Nast Entertainment's "Our Story," a Glamour original series and the series premiere of Fusion's "Outpost."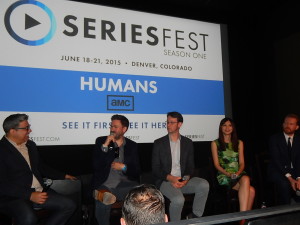 Here is a full list of awards given by the SeriesFest jury:
Best Pilot:             "Witnesses"
Jury Statement:     "This was such a tough decision. There were so many sensational pilots to choose from. 'Witnesses' had such an intriguing premise and it made us eager to see the next episode. We found ourselves thoroughly engaged by the actors, writing and director. Congratulations to everyone involved with 'Witnesses'."
Best Actor:            Robert Olsen, "Dispatch"
Jury Statement:     "Robert Olsen captured our attention from the first frame of 'Dispatch'. His genuine likeability and subtle comedic timing made us want to watch more."
Best Actress:        Lisa King Hawkes, "Zero Point"
Jury Statement:     "Lisa King Hawkes brings a simmering sadness and strength to the role of Dr. Alex Embry in 'Zero Point'. Much of the pilot is spent focused on her face and she carries the story like a season pro."
Best Director:       Alex Calleros, Michael Tucker, "Anamnesis"
Jury Statement:     "The screen is a canvas for directors. Alex and Michael took us on a journey in the pilot 'Anamnesis'. From sweeping vistas to small details, their visual
storytelling masterfully created a compelling world."
Best Writer:         Guy Shalem, "Family Style"
Jury Statement:     "A smart and original comedy that explores what happens when a family decides to open up a pop-up restaurant in their home to make ends meet –
the clever and witty pilot promises many seasons of fresh characters and funny situations."
"We are thrilled to name 'Witnesses' the Best Pilot of SeriesFest: Season One," said Randi Kleiner, CEO of SeriesFest.  "Congratulations to all of our winners. We are extremely proud of all the pilots that screened in the inaugural competition and cannot wait to see what the future holds for each."
SeriesFest's group of Season One jurors hailed from television and the big screen including Oscar-winner Dan Jinks as well as distinguished producers Carter Covington and Ophira Dagan in addition to a veteran of premium cable and network television, Sharon Allen.
–Hillary Atkin