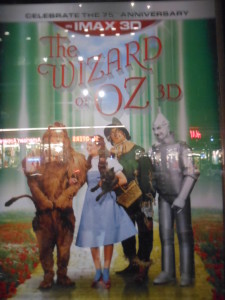 Everyone remembers seeing the classic film "The Wizard of Oz," most likely on a television set in the family living room.
But you haven't truly experienced the magic of it until you see the newly restored version on the big screen in IMAX 3D, which opens for an exclusive one-week engagement in more than 300 IMAX theaters starting on September 20.
We got a chance to see a preview of the iconic 1939 movie at the recently reopened TCL  Chinese Theater in Hollywood– formerly Mann's and Grauman's–and adding to the thrill of it was knowing that the theater was the site of the film's original premiere on August 18, 1939.
Seeing Judy Garland as Dorothy and her dog Toto being transported from Kansas to the land of Oz was a magical movie experience on the big screen, which measures 94 feet wide by 46 feet tall, so you felt like you were right there with them on their journey, ensconced in the comfortable new seats of the theater.
And when the Wicked Witch of the West made her first appearance, the clarity was downright chilling, all the way through until she was liquidated and joy and the Ding Dong song broke out throughout the land.
The restoration of the nearly 75-year-old film, directed by Victor Fleming, followed its own lengthy yellow brick road. More than 1,000 people spent 16 months working on the IMAX and 3D conversions for Warner Bros.
Even the "mistakes" were left in. All three stand-ins for the Tin Man, Scarecrow, and the Cowardly Lion are briefly visible in several shots that show the trio climbing the mountain to get to the Witch's Castle to rescue Dorothy from the green-faced broomstick riding wench who wants her ruby slippers.
More Oz trivia: there are two surviving Munchkins of the original 124, 95-year-old Ruth Duccini and 93-year-old Jerry Maren, the middle Lollipop Guild kid, who just had his hand prints recorded for posterity in the cement outside the Chinese Theater.
To commemorate the landmark anniversary of the film, Warner Bros. Home Entertainment on October 1 will release a limited, numbered Wizard of Oz 75th anniversary collectors edition, which will include a five disc set, including Blu-ray, Blu-ray 3D, DVD, and Ultraviolet versions of the film, a new documentary about the making of the movie and other bonus features.