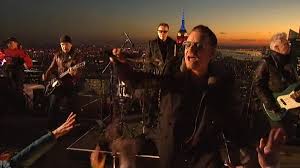 U2, one of the world's greatest bands, is rarely if ever on the losing end of any proposition. But even Bono admitted– on the first night of "The Tonight Show Starring Jimmy Fallon" that an animated character was likely to take the Oscar in the category of Original Song.
That would be one big golden trophy for the ultra-catchy "Let it Go" from Disney's "Frozen," with music and lyrics by Kristin Anderson-Lopez and Robert Lopez and performed by Idina Menzel.
But don't count out the power of U2's anthemic song, "Ordinary Love" from "Mandela: Long Walk to Freedom," with music by Paul Hewson, Dave Evans, Adam Clayton and Larry Mullen to rouse AMPAS voters more. "Ordinary Love" also brings the imprimatur of its Golden Globe award from last month into the competition.
Whichever tune takes the title, just being nominated is a major coup for Pharrell Williams, up for the song "Happy" from "Despicable Me 2." It's the first nomination for the producer/performer and he's been promoting it like crazy, just recently performing it at the NBA All-Star game and the Brit Awards in London. Meanwhile, the gospel funk number is currently No. 2 on Billboard's Hot 100 List.
The other candidate is "The Moon Song" from "Her," with music by Karen O. and lyrics by Ms. O and the film's director, Spike Jonze.
But wait a second, wasn't there another nominee? Yes, in one of those rare Oscar campaign scandals, it was kicked to the curb when it was discovered that emails were sent out to the Academy's music branch asking them to take a listen to "Alone Yet Not Alone," a song from a little-seen film that somehow beat out music from the likes of Taylor Swift, Celine Dion and Coldplay.
All four of the contenders will be performed live at the Oscars on March 2.
TAR's Take: We're going to go with the luck of the Irish and wager that the Academy will resonate more to music that accompanied depiction of the late, great Nelson Mandela.
–Hillary Atkin