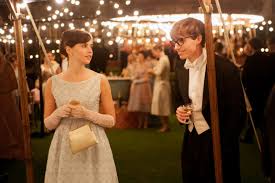 As we move deeper into the heart of awards season, you will be hearing more and more about British actors Eddie Redmayne and Felicity Jones, and for very good reason. In "The Theory of Everything," both are equal parts spellbinding, charismatic and heartbreaking as they portray the time and space of a relationship that not only shaped two individuals and their families but the entire universe of astrophysics.
As the legendary, brilliant scientist Stephen Hawking, Redmayne brings to cinematic life the time before he was struck with Lou Gehrig's disease– and given just two years to live. Playing Jane Wilde, a fellow student, Jones vows to be by his side throughout the unknown challenges that lie ahead, and puts marriage to him and having children into hyperdrive. The rest, as they say, is history.
In reality, Hawking has survived for half a century with the disease, and was married to Jane for 25 years before each moved on to other relationships.
This beautiful film, with stellar performances from its leads, serves to make their lives even more inspirational.