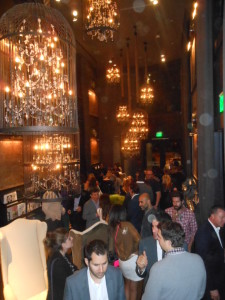 You wouldn't necessarily think that hardware could be sexy, or that an invitation to a store party would be the most coveted one of the night. When that hardware consists of high-end decor at the flagship Restoration Hardware store, all bets are off.
After last year's mobbed opening bash at the Beverly Boulevardl ocation, the bar was raised pretty high as the store recently hosted another lively soirée to launch its Spring 2012 line, called Exposed. Unless you count lighting fixtures as hardware, none seem to be in evidence either upstairs or downstairs at the sprawling store, which boasts an extensive side patio tricked out with trellises and of course, outdoor furniture.
But what you did see were several of Hollywood's most beautiful women including Malin Ackerman, Elizabeth Banks, Milla Jovovich (who had looked absolutely incredible at the Oscars) and Abbie Cornish, all members of the host committee, who partied up a storm with hundreds of others.
The event benefited the The Prints and Drawing Council (PDC) of the Los Angeles County Museum of Art (LACMA) and featured a live performance by New York duo The Pierces.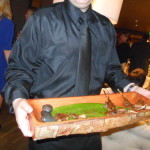 The champagne cocktails were flowing nonstop and the tray passed hors d'oeuvres kept coming, including some succulent lamb chops, as guests checked out the new home furnishings collection.
The only downside of the evening, and one that was predictable with the large crowd (estimated at nearly 1,000 people): the long wait to retrieve cars from valet.