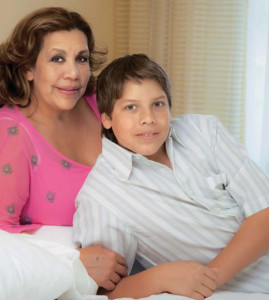 It was only a matter of time before the release of the pictures the world has been waiting for: Schwarzenegger maid Mildred Baena and their son, Joseph, as seen in Hello magazine. The British tabloid apparently paid her a hefty sum to spill the beans about her in-house relationship with the former California governor right under wife Maria Shriver's nose and reportedly, in her bed.
And of course, to sell the pictures–which we're surprised no one else has done thus far.
Baena claims Schwarzenegger didn't know Joseph was his kid until recently, and the boy himself, now 13, only found out about a year ago who his real father is. "Cool," he said, according to the account in Hello.
The story seems to imply that Baena herself didn't know right away that the so-called "Sperminator" was her baby daddy. "It was as Joseph grew and I started to see the resemblance that I wondered – but It became more apparent as time went on," she said.
"I knew Arnold was the father, and maybe as Joseph got older and began to look like him, he [Arnold] wondered. But he never said anything to me."
As for the cuckolded wife Maria, Baena says she kept asking if there was something the maid needed to tell her. Finally, she says she got down on one knee started crying and confessed the truth—and that Maria told her to stand up and cried as well.
"I have so much love and respect for Maria," the maid disingenuously told the magazine. Yes, that's a new way to show respect: sleeping with someone's husband when they're out of the house, although as Baena is quoted as saying in the article. "It takes two."
Schwarzenegger has gotten credit in some quarters for taking care of the boy and his mother financially and buying them house in Bakersfield and thus escaping the "total scumbag" epithet.
Baena's take on him: "He's a good man and I know he's suffering too. He loves Maria. I hope with time they work things out."
It doesn't look like that's the way this is going to go. As one of those hokey old expressions goes, you make your bed, you lie in it.