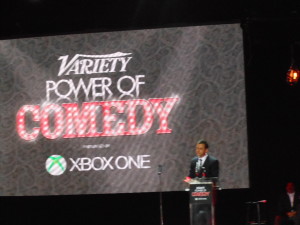 It was a veritable laugh riot in Hollywood Saturday night as some of the town's funniest people turned down other gigs to attend the fourth annual Variety Power of Comedy event and pay tribute to its honoree, late night host Jimmy Kimmel.
Hosted by roastmaster extraordinaire Jeff Ross, Kimmel was the recipient of a large, healthy R-rated dose of ribbing from the likes of David Spade, Kevin Nealon, Will Arnett, Joel McHale, Adam Carolla, Azia Ansari and Dana Gould–all to the accompaniment of Cleto and the Cletones. Not unexpectedly, there were a few antics from "Jimmy Kimmel Live" sidekick Guillermo.
Ross got the party, sponsored by XBox One,  started with a couple of zingers. "What's a Quinceañera?" he asked the sellout crowd of 650 seated at the Avalon. "It's a bat mitzvah for the help."  And then, "Jay Leno is down the street at the El Capitan, scouting locations for his next show."
It was all for a good cause, with proceeds from the evening benefiting the Noreen Fraser Foundation, which funds cancer research. In the midst of all the comic relief, Ms. Fraser took the stage to personally think Kimmel for his support—and to toss him some guest towels she had made for his wedding. "Fork Cancer," read one, "Motherforker" the other.
There was spirited bidding to win a signed Xbox One.  When two audience members agreed to each bid $4,000 to "split" the new console, Xbox representatives quickly volunteered to auction off another, raising a total of $8,000 for the  Foundation.
One of Kimmel's well-known lovers, Ben Affleck, sent video greetings. "When I was inside you, you were like a Swedish meatball, but now you're all ripped for your wife," Affleck noted.
Adam Scott introduced a series of messages sent via Skype, one of the event's sponsors, from Zooey Deschanel, Rob Lowe, Ray Romano and Robin Williams. They were capped off by ex-girlfriend Sarah Silverman, "speaking from her vagina" – a smart phone held sideways between her legs with her lips mouthing the words that were hard to hear above the laughter.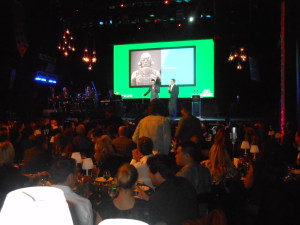 As the evening came to a close, Will Arnett presented the Variety Power of Comedy Award to Kimmel, who thanked all of his friends and family for supporting him through the years, and ended the night singing a great rendition of Neil Diamond's "Heartlight."
Additional sponsors of the event included Amazon Studios, GUINNESS, Johnnie Walker, and Unite4:Good.him

–Hillary Atkin