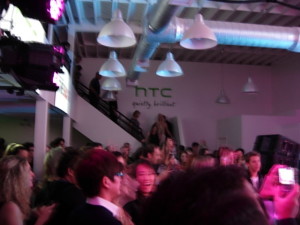 Beverly Blvd. just east of Robertson was the place to be on Thursday night as three separate events slowed traffic to a crawl and brought out hundreds of people.
The biggest party was at the brand-new Restoration Hardware flagship store, right around the corner from the Starbucks. The home furnishings store is reportedly closing its locations that sell lower-priced merchandise and focusing on a higher-end concept like the one displayed at the two-story location, which also boasts a large private patio. The place was so jam-packed that you could barely see the furniture.
Across the street, it was beds that took center stage at Jennifer Convertibles. We didn't get to make it there—hard to be in two places at once, but went next door to Radio Shack's party for the debut of the cool new HTC Evo 3-D phone. Any party that's pouring Veuve is usually a good one and this was no exception, with live entertainment and phones going out to VIPs and celebrities, which included the partying Paris Hilton.
Earlier in the evening, at the penthouse at the Andaz Hotel, another product was launched for a very rarefied crowd. It was the $6,500 Kohler toilet that opens and closes by itself– the perfect accessory for an ultra modern home designed by the esteemed architecture firm Marmol and Radziner, which co-hosted the event.