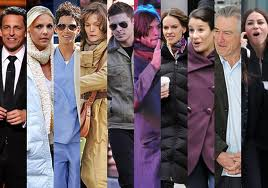 Holiday movies, by virtue of the power vested in them, are supposed to have uplifting elements to them. But in the case of the celebrity-packed "New Year's Eve," from the makers of the similarly-themed "Valentine's Day," the dominant emotions are stultifying boredom and dread.
The story certainly had potential for that warm, fuzzy feeling. The concept: take a bunch of diverse, but generally inordinately attractive people like Halle Berry, Jessica Biel, Zac Efron and Josh Duhamel – some couples, some former couples, some singles and some kids – and mash up all their stories in New York City on New Year's Eve.
Make one of the centerpieces a last-minute glitch in the the famous ball drop at Times Square, overseen by a toothy Hilary Swank, and a race between two couples to deliver the first child of the new year for a $25,000 prize and you have yourselves the making of a lighthearted, fun comedy.
But the mix of movie and television stars thrown together for seemingly no other reason than their tabloidability just never seems to work– until the surprise ending – which we are not going to spoil. Only to say that it partially mitigated the previous two hours of discomfort of watching scenes like:
– a slacker/hipster Ashton Kutcher (gee, that's a stretch) stuck in an elevator with an aspiring singer played by Lea Michele. If you're a fan of hers, you may appreciate the skintight red bandage dress with black tights. Otherwise, not so much.
– SNL's Seth Meyers as the husband of pregnant Jessica Biel. You'll be waiting for him to say something funny, but it just doesn't happen.
– Jon Bon Jovi as a gasp, hot, headlining rockstar who gets religion about relationships and tries to pull out some stops in order to win back his ex, Katherine Heigl, masquerading as an accomplished chef catering one of the city's biggest bashes. We must say Bon Jovi, not singing, was one of the film's highlights.
– Robert DeNiro in a throwaway role that probably took a couple hours to shoot as a dying man in a hospital bed who refuses treatment– and whose last wish is to see the ball drop from the rooftop. Yeah, right. Going out of this life on a real highlight.
– Michelle Pfeiffer as you've never seen her before, and wouldn't want to again, as a scattered, mousy music industry secretary who quits her job and goes on a "bucket list" journey with none other than Zac Efron. Okay, will admit it – he's cute and charming.
– And then there's Sofia Vergara in another caricature of her va va voom Latina bombshell persona, which has become extremely tiresome, spouting one inane line after another as she thrusts herself in the direction of Bon Jovi– even though she works for Heigl.
Need we say more? One person we haven't mentioned is Sarah Jessica Parker. That's because she supplies the only real emotions and romantic drama in the whole piece. You go, SJP.  Everyone else, probably best to forget you were in this stinker.
New Year's Eve, directed by Garry Marshall, written by Katherine Fugate
 Rated PG-13, Runs 1:57