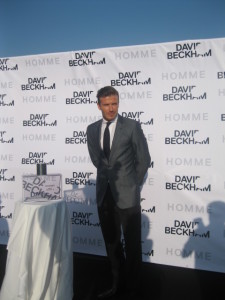 Soccer star. Sex symbol. Father and husband. Friend of Prince William. And now, fragrance maestro. David Beckham just released Homme, a woody, gently spiced new fragrance for men that encapsulates his spirit.
At its launch inLos Angelesat an exclusive bash atop the Thompson Hotel, one of the world's handsomest men mingled with guests and talked about what inspired him.
"I wanted to create a modern, masculine fragrance that reflects my personal style," he said. "The set has both citrus and woody tones. It's clean, yet classic – and I hope is a fragrance man will enjoy to wear."
In bright sunlight and as the winds picked up around the poolside party, women's hair blew all about, while Beckham's remained stylishly in place. And it should be noted that most of the guests were women– and that many of them tried the fragrance on and pronounced it eminently wearable.
The scent opens with an aromatic freshness of citrus, ginger, pine and fiery pepper. At its heart is a signature fusion of cashmere wood, leather and rosemary, creating a rich masculine appeal. The fragrance then finishes with a base of mahogany wood, patchouli and musk, giving it a depth that its makers hope will intoxicate the senses.
The print ad for Homme features a photo of Beckham looking cool, collected and confident–with an air of calm determination.
In addition to the signature eau de toilette in four sizes, the fragrance line– distributed by Coty Inc.–also includes aftershave lotion, hair and body wash, body spray and a deodorant stick and is available at major retailers.