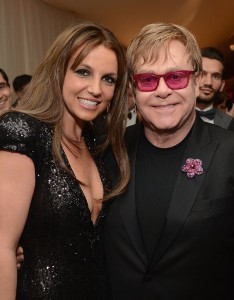 By the time Oscar Sunday rolls around, most of the people out celebrating have been doing so for days on end. But if you're one of the lucky guests at the Elton John AIDS Foundation Viewing Party and afterparty, brace yourself for a grand finale to awards season –and to be on board for the whole afternoon well into the night.
Yet all of the glitzy celebration is for a good cause. The 21st annual event, hosted by Sir Elton John and David Furnish, raised a whopping $6 million for the fight against HIV/AIDS.
Held at the tented City of West Hollywood Park across from the Pacific Design Center, guests began celebrating the Academy Awards with a cocktail reception before the broadcast began.
As they watch the ceremonies on monitors in a beautifully created ballroom festooned with red tablecloths and beautiful floral centerpieces, a five course dinner is served – and this year fell under the culinary supervision of celebrity chef Gordon Ramsay.
On the menu: chilled Dungeness crab, braised beef short rib and sticky toffee pudding for dessert.
A sizable contingent of guests that we spoke with flew across the country in order to attend and support.
"We come every year," said one attendee from Miami. "We love L.A. in the winter and wouldn't miss this," his friend said.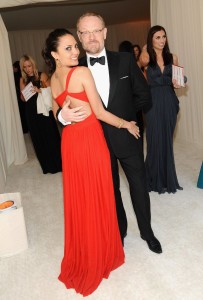 The guest list was eclectic and included athletes, execs, artists and actors like Aisha Tyler, Andrew Rannells, Anna Paquin & Stephen Moyer, Bernie Taupin, Billie Jean King, Bono, Britney Spears, Bryan Singer, Carmen Electra, Chace Crawford, Chad Michael Murray, Chelsea Handler, Chris Brown, Chris Colfer, Chris Cornell, Dave Grohl, Dustin Lance Black, Emma Roberts, Emmy Rossum, Eric & Janet McCormack, Finola Hughes, George Takei, Heidi Klum, Ian Somerhalder, Jaime King, Jane Lynch, Jane Seymour, Jared Harris, JC Chasez, Jeffrey Katzenberg, Jenna Elfman, Jennifer Coolidge, Jessica Lowndes, Jim Carrey and Joel Madden.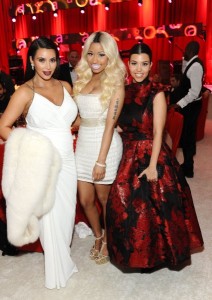 Also attending:  John Waters, Judy Greer, Karina Smirnoff, Katerina Graham, Kelly Osbourne, Kim Kardashian, Khloe Kardashian, Kourtney Kardashian, Kyle MacLachlan, Lucy Lawless, Lydia Hearst, Matthew Morrison, Mehcad Brooks, Mel Brown, Mena Suvari, Michael Buble, Miley Cyrus, Molly Sims, Naomi Campbell, Natalie Imbruglia, Nia Vardalos Nicki Minaj, Nicole Richie, , Paz Vega, Peter Facinelli, Petra Nemcova, Quincy Jones, Rachel Griffiths, Randy Jackson, Rose McGowan, Russell Simmons, Ryan Kwanten,  Sharon Stone, Steven Tyler, Terry Crews, Tim Allen, Topher Grace and Wilmer Valderrama.
After dinner, it was time for the event's noted auction, which always brings in the big bucks for a great cause.
An iconic photograph of Faye Dunaway taken the morning after she won her Best Actress Oscar for "Network" by famed photographer Terry O'Neill sold for $120,000. Two pairs of tickets to join Elton and David at the legendary Vanity Fair party sold for $150,000 each. Five days at Steven Tyler's Hawaiian retreat brought in $250,000 and  Sir Elton also auctioned off four private performances by himself that went for $250,000 each, totaling $1 million right there.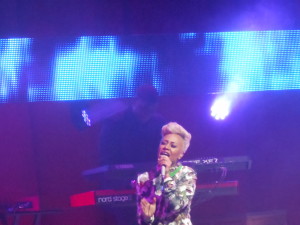 The musical entertainment – also a keynote feature of Sir Elton's annual party – featured music from soulful Scottish songstress Emeli Sandé, who performed a high-energy set, including the hit song "Next to Me," much to the crowd's delight.
Many of the guests we spoke to were big fans, and she gained many more with her performance.
The gala couldn't happen without the support of its sponsors Chopard, Neuro, Wells Fargo and American Airlines. No wonder there were so many out-of-towners.
In his remarks, EJAF Founder Sir Elton John kept to the theme of the evening: AIDS research. He celebrated the Oscar-nominated documentary How to Survive a Plague, praising the extraordinary work of the early AIDS activists portrayed in the film and calling for a renewed emphasis on AIDS advocacy.
"How to Survive a Plague tells the story of AIDS activism in the earliest and most terrifying years of the AIDS epidemic.  But you know what?  Today, that activism is needed now more than ever if we are to achieve the promise of an AIDS-free generation," said Sir Elton.  "Our Foundation is clear on what is needed, we're vocal in standing for what we believe, and we invest in the work that needs to be done.  And I promise you that we'll keep on fighting until the politics and bureaucracies yield to reason and justice.  I don't care how long it takes, we're going to fight, and we're going to win."
For more information, please go to www.ejaf.org
–Hillary Atkin