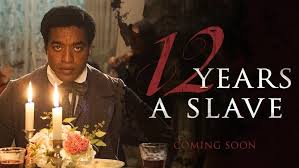 All pizza party stunts and star-studded selfies aside, the 86th Annual Academy Awards will go down in the record books as the first time that a black director helmed the winner of the year's best picture. And literally jumped for joy.
"12 Years a Slave" was certainly not a lock to win, as host Ellen DeGeneres noted succinctly at the very top of the telecast, but vaulted over the popular blockbuster "Gravity" with a savvy last-minute campaign with the admonition "it's time." (Post-Oscars, for the full-page ads, it's now become "…for all time.")
That could be interpreted several ways – that it was time to actually watch the film, which many Academy members had put off doing for fear that it would be too upsetting, or that it was time to recognize a film that brought to life the darkest chapter in American history.
Although there have been many other acclaimed films about slavery, the last being Quentin Tarantino's "Django Unchained," "12 Years" was unique in that it was based upon a book written by a free Northerner who was kidnapped and enslaved in the South. Solomon Northup's book had long since fallen into obscurity before it was apparently rediscovered by British director Steve McQueen's wife. Now, the book is guaranteed bestseller status.
But back to the show, which featured a number of uplifting moments that almost erased the rancid memories of last year's Seth McFarlane-sanctioned "We Saw Your Boobs."
Here are some of our favorites: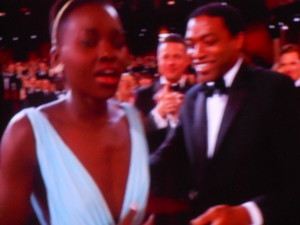 Lupita Nyong'o, crowned, as expected, with the best supporting actress award, gave a moving speech in which she acknowledged that portraying another person's deep pain became the source of great joy for her. "No matter where you're from," the Kenyan-born Nyong'o said, "your dreams are valid."
Jared Leto, as well the anticipated winner of best supporting actor, also continued on the high road he's taken during the entire season with a heartfelt and dignified acknowledgment of his mother, coupled with a shout-out to the people of Venezuela and Ukraine and also recognizing millions of those who have suffered and died from HIV/AIDS.
U2's toned-down, acoustic performance of "Ordinary Love,' which was our favorite to win over the original song from "Frozen." But poor Idina Menzel, with her name butchered by John Travolta. It isn't that hard.
A resplendent Cate Blanchett, who achieved the perfect note in thanking the controversy-plagued Woody Allen for casting her in "Blue Jasmine" while making the point that films about women are not niche, but mainstream – and most importantly to Hollywood, make money.
Outside of the original song categories, the performances by Bette Midler and Pink– although we do wish it would have been Liza Minnelli performing "Over the Rainbow,' she must've turned down the opportunity that was part of the "Wizard of Oz" tribute.
Alfonso Cuarón, charming with both of his acceptance speeches for best editing of "Gravity" and best director, becoming the first Latino to achieve that honor. Because he himself makes fun of how he speaks English. we can say that we kept hearing his version of "wise guys," referencing the people he worked with at Warner Bros. as "white guys." Then we heard him change it to, um, "white people." Even more endearingly, we heard secondhand that he left his Oscars in the car for one of the after parties and was asked to pose with someone else's– and hesitated because he thought it was unethical because it didn't belong to him. Team Alfonso!
"20 Feet From Stardom's" win as best documentary–and not only because we personally know some of the key players. Darlene Love, one of the back-up singers chronicled in the film whose career has re-surged because if it,  firmly took center stage when she began to sing "His Eye On The Sparrow" mid-speech.
Not so favorite moments:
The aforementioned Travolta botching of the not-that-hard name to pronounce, Idina Menzel.
The "In Memoriam" section for which we thought Midler should have sang over, instead of after, but more importantly for the omission of names including Jonathan Winters, Dennis Farina and Ed Lauter, to name a few. We had a feeling that the list would culminate with Philip Seymour Hoffman. It was almost a cliché and for those especially affected by the way that he died, left a bittersweet taste.
Matthew McConaughey's acceptance speech, true to his past form in accepting a slew of awards, was rambling – and repetitive. We didn't quite get the concept of continually being your own hero, but as yourself 10 years into the future. Perhaps for him, that's aspirational, or inspirational. But compared to the other truly inspirational speeches given by fellow actors it fell short – unless you count the all right, all right, all right part.
–Hillary Atkin