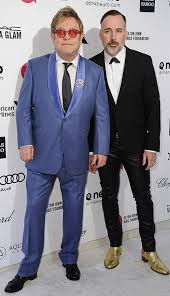 Even a torrential downpour couldn't dampen the spirits at the 23rd annual Elton John AIDS Foundation Academy Awards Viewing Party hosted by Sir Elton John and David Furnish. In spectacular fashion, the event raised nearly $6 million for AIDS research.
With all those funds raised for a good cause, the glitzy celebration marks the grand finale to awards season, beginning with cocktails before the Oscars followed by a festive five-course dinner, a rousing musical performance and then a rollicking afterparty that goes into the wee hours.
The crowd went crazy when Sir Elton joined Nile Rodgers and Chic for the end of their set that featured classic hits including "Le Freak," "We Are Family," "Dance, Dance, Dance (Yowsa, Yowsa, Yowsa)," "Everybody Dance," and "Good Times."
Held again at a specially designed tent set up at the City of West Hollywood Park across from the Pacific Design Center, guests watched the ceremony and later, the musical performance in a glamorous ballroom set with purple tablecloths and beautiful floral centerpieces.
For the third consecutive year, Chef Gordon Ramsay designed the menu, assisted by Chef Wayne Elias of Crumble Catering. It featured Hamachi crudo, curried cauliflower soup, pan seared sea bass or rosemary crusted filet and a mixed green salad of butter lettuce, radicchio and watercress, dressed with white balsamic vinaigrette. For dessert, a delicious concoction of meringue, lemon zest, strawberries and vanilla Chantilly.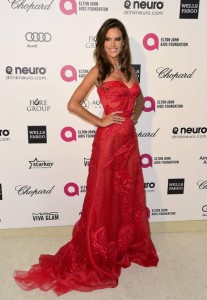 Famous faces in the crowd ran the spectrum of entertainment, fashion and music and included Heidi Klum, Miley Cyrus, Alec Baldwin, Robert Duvall, Tim Allen, Aaron Paul, John Stamos, Chris Colfer, Beck, Lil' Kim, Ryan Kwanten, Cloris Leachman, Judith Light, Rob Lowe, Moby, Lydia Hearst, Ozzy, Jack, Kelly and Sharon Osbourne, Petra Nemcova, Cody Simpson, Gigi Hadid, Dita VonTeese, Brittany Snow, Lisa Rinna and Harry Hamlin, Alessandra Ambrosio, Camilla Belle, Nina Dobrev, Sandra Lee, Jane Seymour, Sia, Russell Simmons, Bellamy Young, Sarah Hyland, The Band Perry, Julianne Hough, Maggie Grace, Peter Fonda, JC Chavez, Dermot Mulroney, Jonathan Groff, Chris Hardwick,Jared Harris, Eric McCormack, Giovani Ribisi, and Bryshere Y. Gray, among others.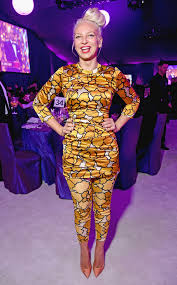 The auction is always a big part of the event, which is cosponsored by Chopard, Neuro Drinks and Wells Fargo. This year sought after items included two tickets to the Vanity Fair Oscar Party later that night, the Alex Prager photograph Sheryl: 2009, the Jeurgen Teller photograph of Joan Didion for the Céline Campaign Spring Summer 2015, a Stephen Somerstein print of Dr. Martin Luther King, Jr. speaking to marchers at the end of the famous trek from Montgomery to Selma, Alabama in 1965, a Greg Gorman photograph and portrait sitting, an all-inclusive, four-night stay for four people at the Clayoquot Wilderness Resort and a five-day stay for four people at Steven Tyler's Hawaiian Retreat.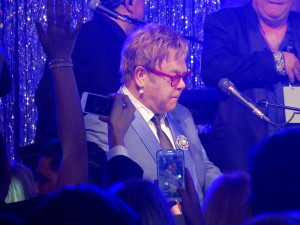 Throughout the evening, guests were able to make donations to the Elton John AIDS Foundation by using their cell phones and were urged to give as much as they could via video messages from long-time EJAF supporters Matt Lauer and 87th Annual Oscars host Neil Patrick Harris, as well as live messages from EJAF friends Alec Baldwin and Mike Myers.
Even though it's considered one of the year's most fun and freewheeling parties, the serious message of fundraising was underscored by Sir Elton.
"What we're able to do in just one evening continues to amaze me," he told the crowd.  "Because of your generosity last year, we helped nearly 70,000 people across the U.S. and the Caribbean to receive regular HIV testing services. Because you cared, an additional 15,000 people were able to stay in continuous medical care, and nearly 12,000 achieved complete viral suppression. That's an amazing achievement. And this year, we're poised to do even more."
He ended on an extremely positive and hopeful note: "Together, we're making real progress against this epidemic by helping one person, one community, at a time. And it is not at all unrealistic to think that together we can end AIDS in our lifetime."
–Hillary Atkin