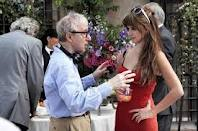 Another European capital, another delightful Woody Allen film. Although not as outstanding as his last outing, "Midnight in Paris, Allen's "To Rome with Love" imports the trademark neuroses of his main characters to another land. This time, instead of a surrogate Allen-type, as Owen Wilson played in "Paris," the audience gets the pleasure of seeing Allen himself, as himself. And if that wasn't enough, there's Jesse Eisenberg as a version of his younger self.
The story revolves around several groups of Americans living and loving in the sun-splashed, picture postcard perfect ancient capital, intermingling with Italians. The Eisenberg character becomes torn between two women, his girlfriend and her friend who has arrived for a visit. All along the way, he's mentored by a perfectly cast Alec Baldwin, who carries the baggage of his own relationship misdeeds and tries to impart wisdom, to much comedic effect. Baldwin is supposed to be a successful architect, but is really just himself– and the conceit works well.
Not so perfectly cast is the supposedly irresistible-to-men friend of his girlfriend, Greta Gerwig, played by Ellen Page. Page's character is supposed to be a self-centered, wacky, free-spirited, sexy temptress who is, not surprisingly, an aspiring actress– a fact that takes center stage in the denouement of this particular love troika.
The problem is that Page is way too smart and far too skinny– her skinny jeans can barely stay on her extremely lean figure — for this role. What, Woody couldn't get Scarlett Johansson, who has been pitch perfect in some of his previous pics? She would've really made this character her own.
But this isn't just a story of love gone awry or intercultural marriage. Roberto Benigni– he of the jumping on the backs of chairs at the Oscars more than a decade ago to pick up his statuette– is the center of another thread of the story that riffs on the utter ridiculousness of pop culture's obsession with celebrity, complete with hordes of paparazzi following his every move. You'll be thinking of the Kardashians almost every step of the way, and smirking.
And then there's one of Allen's longtime muses, Penelope Cruz, who plays a call girl who gets dragged into the drama of a young Italian couple's relationship and the man's quest to impress his wealthy relatives. The minute they see Cruz's skintight red mini-dress and sky-high heels, well, you can imagine the consequences– and comedy.
Meanwhile, Allen and his wife, played by Judy Davis, have come into town to meet their daughter's fiancé, but instead, the visit becomes Allen's way of getting back into the music business, from which he had retired. It's a perfect ploy as Woody sitting around with nothing to do is not a pretty sight, although his wife is anything but supportive of his new obsession.
We're not going to spoil anything here, except to say that his protégé, who just happens to be the fiancé's father, excels at singing opera in the shower.
And just like those performances, the movie leaves you on a high note. Bravo, Woody!
To Rome With Love, Rated R, Running Time: 1:52