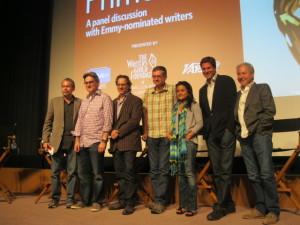 In film, writers don't get much glory, but in television, they're all that—and even more so if they are up for a golden statuette named Emmy.
And so it was that a group of writers, most of them also showrunners of some of the top comedy and drama series on the tube–along with an acclaimed made for television movie– took the stage at the Writers Guild Theater to discuss their work before a full house.
Steve Levitan and Jeffrey Richman (Modern Family), Veena Sud (The Killing), Jason Katims (Friday Night Lights), Greg Daniels (The Office) and Peter Gould (Too Big to Fail) with moderator Mike Scully made the WGA West's annual "Sublime Primetime" a bit of a laughfest from the get-go.
Scully asked Gould if he got pressure from HBO to add a vampire or have Turtle from "Entourage" stop by the drama about the financial meltdown of 2007-8, centering on William Hurt playing Hank Paulson.
Daniels discussed the challenges of writing Steve Carell's exit from "The Office" and the impact of his departure on the staff. "I was stressed out about Steve leaving, and wondered how he would say goodbye," Daniels admitted, noting that they got an extra six minutes for the finale.
"That seems like cheating for the Emmys," Levitan interjected, and then went on with Richman to break down the story of their nominated script. One thread features kids walking in on their parents having sex—a subject of endless horror, and humor. Another focused on a guest spilling something on an expensive rug and trying to cover it up, which Richman admitted he did in real life.
Sudd talked about her instincts for "The Killing" coming from a dark place, honoring that, and knowing her show was cable-only. She also got some good-natured guff about being the only woman in a group of white guys.
Looking over the entire list of Primetime Emmy Award nominees, she doesn't have much female company, only Heidi Thomas for "Upstairs Downstairs" on PBS as an individual nominee, Maria Jacquemetton for co-writing the "Blowing Smoke" episode of "Mad Men" and a few women in nominated staffs of shows including "The Daily Show with Jon Stewart" and "Saturday Night Live."
Now that's kind of sad.