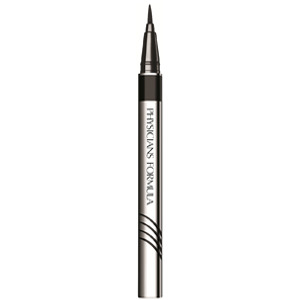 We will admit right off the top that we are brand name biased. No knockoffs, no generics or cheaper versions of the products we know and love. But when it comes to cosmetics, all bets are off– and it's thrilling to find great products at literally a fraction of the price that are just as good as their costly counterparts.
Our new favorite is from Physicians Formula, a quality drugstore brand that boasts a great line of color cosmetics. It's a liquid eyeliner with eyelash serum built in, in a sleek silver tube that is eminently portable. And you will want to make this a daily habit.
The fine tipped brush makes application a breeze, allowing you to go for an ultra-thin line or amp it up with a thicker one. Smudgeproof and water-resistant, It stays on like a dream, and as importantly, it comes off really easily as well.
We first tried the regular black color, which was beautiful, and then tried the ultra black. Wowza! It was almost too intense, which could be a good thing, depending on your style. For us, this meant it's going to be used mostly for nighttime.
While we also use a separate lash boosting serum at night, and therefore can't vouch for that aspect of this product, we are absolutely hooked on everything else about it.
And here's the greatest thing: it will set you back about $11 at your favorite drugstore. So go to town.
Physicians Formula Eye Booster 2-in-1 Lash Boosting Eyeliner + Serum, hypoallergenic, fragrance and paraben-free, $10.95