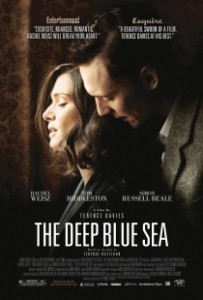 You might call it the anti-"Hunger Games." Opening on March 23 in New York and Los Angeles, " The Deep Blue Sea " is set in England in the torn and tattered aftermath of World War II, and stars Rachel Weisz as a woman trapped in a loveless marriage to a judge, but who finds passion with a former fighter pilot.
The film is directed by Terence Davies and adapted by him from a 1952 play by Terence Ratigan, regarded as the late playwright' s finest achievement, a story about a woman who risks everything for the man she loves, a man who is not fully able to reciprocate her love. As it examines the unreliable nature of love and how it is sometimes impossible to explain in terms of logic, it's also a painful and uncompromising study of the fear of loneliness.
Weisz plays Hester Collyer, whom we first meet in a seedy apartment that she shares with Freddie Page (Tom Hiddleston), a handsome and charismatic ex-RAF pilot that she began an adulterous and highly erotic affair with, deciding to leave her stiffly upper-class husband, Sir William Collyer (Simon Russell Beale), a prominent attorney.
That journey sets her on a roller coaster of emotions, whose roots are unacceptable in the society of the time and result in feelings ranging from deep depression to orgasmic elation. In those days, women did not leave their husbands, and although Hester is ultimately very conventional, following her heart to a dingy apartment is an act of courage – and a quest for personal freedom.
The adaptation is told entirely from Hester's point of view, and Davies says he was inspired by women's pictures of the 1940s and 50s, starring Joan Crawford and Bette Davis, that he grew up watching.
He added in some characters, like her disapproving mother-in-law–seen in flashback, beefed up others, as well as added some scenes that were not in the play, including a rousing group sing along in a pub.
The love triangle—for Collyer is not letting his wife go without a fight– results in undesirable situations that create deep dilemmas that inspired the title from the phrase "between the devil and the deep blue sea," equivalent to being between a rock and a hard place.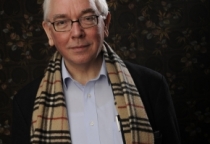 We spoke with director and screenwriter Davies about his latest film.
TAR: What were the challenges of adapting this play for the big screen?
Davies: It's the same as adapting a novel, not just getting the story but the tone of the piece. The first act of the play is exposition, but in the film you can show how she came to want to kill herself. You can open out and illustrate cultural differences.
TAR: Do you feel that modern audiences can relate to the social and class restrictions of the time you are depicting?
Davies: I think people get it within the first two minutes. If you do, then you believe that world. You see the world and you believe, you will accept what seems to be implied. As a filmmaker, you make sure this is the world and this is how it's perceived.
Visually, once you knew what you want, you have long discussions with the costume designer, then do tests to get the look you have to illustrate.
TAR: Tell us about the emotional landscape of "The Deep Blue Sea."
Davies: I tried to make it true to the play. With any play there's a specific landscape, perhaps. In this, it's a ménage a trios, with unrequited love. Each wants a love from the other they can't give, true love.
TAR: You said you really weren't familiar with Weisz before casting her in this film. What was it like working with her?
Davies: She was just luminous, and an absolute joy, as was all the cast. We shot the entire film in 25 days, and I couldn't have done it without them.
TAR: How difficult was it to find your Freddie?
Davies: We saw a lot of young lads, and I was getting worried. Tom came in and we started the audition and it was clear that he was Freddie, after all the other main characters had been cast. 
Davies' signature style includes beautiful tracking shots as well as the use of popular music of the day including Samuel Barber's majestic Concerto for Violin and Orchestra. Op. 14. Besides his two acclaimed semi-autobiographical features Distant Voices, Still Lives and The Long Day Closes, Davies' films include The House of Mirth, The Neon Bible, and Of Time and the City, his masterful nonfiction exploration of his native city, Liverpool.
The film is rated R and runs 98 minutes.