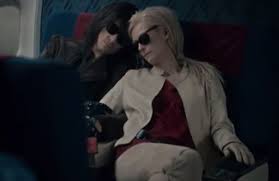 It's Tilda Swinton and Tom Hiddleston as you've never seen them before. They look like the coolest, hippest rock and roll couple ever in Jim Jarmusch's new film, "Only Lovers Left Alive."
And here's a chuckle in this romantic tale. Their names are Adam and Eve.
Yes, that's a biblical reference and it's amazing what long hair will do to visually represent the timelessness of love. In this case, Swinton sports waist length, platinum-y locks while Hiddleston has the shaggy long dark-haired British rock star thing going on. And they're often seen rocking some ultra cool shades, indoors of course, as in "I wear my sunglasses at night."
There's a really good reason for that, as viewers soon discover as the goth-style, musically influenced cinematography unfolds. These two are vampires that have been a passionate couple  for countless centuries but somehow have become separated, apparently due to their individual artistic pursuits. For him, it's music. For her, apparently living life to the fullest.
Without revealing many spoilers, they are reunited in Detroit, where Hiddleston's character lives in a creaky old house in what looks like a largely abandoned neighborhood, where male groupies–seen through a security camera– often congregate to get a look at the reclusive rock star.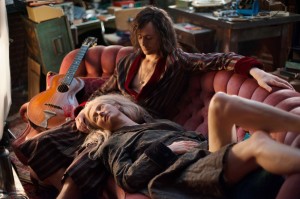 You never know what's coming next as several supporting characters are introduced into this creepy yet strangely enticing, erotic locale, including a connected music scene dude, Ian, played by Anton Yelchin, who procures rare guitars and seems to be the main connection to the outside world.
Adam himself seems to only venture out of his vamp-mansion to get his drug of choice from a helpful doctor (Jeffrey Wright) at a local hospital.
But when Eve comes to town, traveling from her home in Tangier, where she makes similar nocturnal forays, Adam gets pulled out of his comfort zone.
Things get especially off track when Eve's younger sister, Ava, (Mia Wasikowska) makes an unwanted appearance and after creating a series of nuisances, commits a crime that needs to be covered up by her elders.
Jarmusch has said he finds romantic appeal in desolate and postindustrial landscapes, and Detroit is filled with them. Tangier, Morocco also swirls with moody mystery in a much livelier environment where another supporting character, John Hurt as a witty, erudite Christopher Marlowe holds court.
The music, the moods, the unexpected humor, the romance, the costumes all blended together to make this one of the most thrilling and evocative films seen in recent years.
–Hillary Atkin