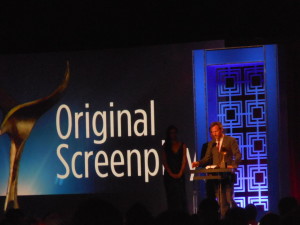 With Saturday night's Writers Guild of America Awards, all of the guilds have now spoken– their voters deciding the best written, best directed, best acted and best produced movies of the year.
And for the first time in recent memory, there is no clear consensus– which makes the ongoing Oscar race even more interesting than it is when just one or two films and their key talent are considered a lock.
For those with short memories, the DGA went with "Gravity," the PGA tied "12 Years a Slave" and "Gravity," and SAG went with "American Hustle."
At the WGA, where "Gravity" and "Slave" were not nominated, "Her's" writer Spike Jonze won the award for original screenplay, which was up against David O Russell for "American Hustle," Woody Allen for "Blue Jasmine," Bob Nelson for "Nebraska" and Craig Borten and Melisa Wallack for "Dallas Buyers Club."
In his acceptance speech, Jonze called the trophy "an award for pain, because writers endure a very specific kind of torture."
In the adapted screenplay category, Billy Ray took the prize for "Captain Phillips" in a field that included Tracy Letts' "August: Osage County," Richard Linklater, Ethan Hawke and Julie Delpy for "Before Midnight," Peter Berg's "Lone Survivor" and Terence Winter for "The Wolf of Wall Street."
"I owe quite a debt to Captain Richard Phillips, who survived something I know would've killed me," Ray said in his acceptance speech about the real-life ordeal the hijacked captain endured. "It was Captain Phillips who wrote this movie. I just wrote it down."
Jonze and Ray are also nominated for Oscars in their respective screenplay categories and have now gained traction with their WGAs.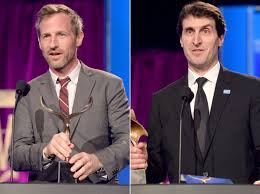 There were no such underdogs on the television side.
Four months after its record-breaking series finale, the accolades for "Breaking Bad" keep rolling in. The latest came Saturday night when the AMC drama took the award for best drama series at the 2014 Writers Guild Awards, which honor outstanding achievement in writing for film, television, radio, promotion, new media and videogames.
"This has been an amazing last seven years. No one saw it coming," said the perennially modest creator, writer, producer and sometime director Vince Gilligan, who won the DGA last weekend, in accepting the trophy. "I'm continually reminded that motion pictures—movies and television—are collaborative. I can't imagine doing this without the amazing cast, producers and directors. But I'm reminded that it all starts with the word created on the page."
The award was handed out near the end of ceremonies held on the West Coast at the JW Marriott L.A. LIVE in Los Angeles, while a separate East Coast kudofest took place at New York City's Edison Ballroom. Some Los Angeles attendees were unnerved to find out the winners were published online before they were announced in the Pacific time zone.
Still, that didn't diminish the joy for the writers of HBO's "Veep," which took the award for comedy series in a field that included "Modern Family," "30 Rock," "Orange is the New Black" and "Parks and Recreation."
The prestigious new series prize went to Netflix's much-lauded "House of Cards." The other contenders were "The Americans," "Masters of Sex," "Ray Donovan" and "Orange is the New Black."
The Los Angeles ceremony, which was not televised but streamed live on latimes.com, was hosted by actor Brad Garrett, who got flack on social media by starting things off with racial jokes about "Gravity" that many considered offensive.
West Coast presenters included Julie Delpy, Bruce Dern, Julianna Margulies, Stana Katic, Walton Goggins, Dermot Mulroney, Nick Offerman, Joe Manganiello, Amber Tamblyn, Betsy Brandt, B. J. Novak, Sasha Alexander and "Jeopardy!" host Alex Trebek.
The writing staff of "Jeopardy!" received the first-ever WGA award for quiz and audience participation.
The honorary awards were especially poignant this year, honoring Paul Mazursky, Garry Marshall, Sam Simon, Alex Gibney– all of whom gave moving and often funny speeches–and posthumously to Thomas C. Cook, whose daughter accepted graciously on his behalf.
The WGA also recognizes individual episodes of drama and comedy, for which "Breaking Bad's" Gennifer Hutchison and "30 Rock's" Jack Burditt and Robert Carlock took home trophies.
In the hotly contested comedy/variety series category, the writing staff of "The Colbert Report" beat competitors from "The Daily Show with Jon Stewart," "Saturday Night Live," "Jimmy Kimmel Live," "Conan" and "Portlandia."
(A complete list of winners can be found here: http://www.wga.org/content/default.aspx?id=5399)