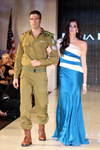 The atmosphere was electric inside the tent at the Century Plaza Hotel, as some of Los Angeles's top fashion designers showed off their latest creations on the runway to honor Israel's Defense Forces on the occasion of the country's 63rd birthday.
Dina Bar-El, Johnny Was, Gypsy 05, Rogue Apparel Branding, Next Level, Pure, Sledge, Tal Sheyn, Real Sovage, Treasure Rock and Lloyd Klein were among the designers showcasing their work to the appreciative crowd, after a cocktail hour featuring signature Israeli cuisine and a silent auction of one-of-a-kind gowns inspired by the design of the Israeli flag, created to benefit the men and women serving in the IDF.
A group of soldiers was flown in for the occasion, which was put on by the Friends of the Israeli Defense Forces, (FIDF) and featured rousing anthems performed by Tamara Gabriel and Carmel.
Another crowd-pleasing performance came from rapper Won-G, who grew up in Haiti and spoke about how Israel's army was first on the scene last year when the devastating earthquake broke, providing medical and technological aid in the midst of the crisis. It was one of a number of situations in which the country has sent forces to help with humanitarian aid, including disasters in Kosovo, China  Hurricane Katrina and most recently,  in the aftermath of the earthquake and tsunami in Japan.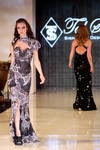 The evening was hosted by actress Shirly Brener and Ilana Shoshan, who was crowned Miss Israel in 1980 and last year was elected Miss Israel of all time for her work supporting women's empowerment.
FIDF support soldiers and their families through a variety of programs that distribute financial aid and other comfort and well-being for soldiers and their families, including those who made the ultimate sacrifice for their country.
Every guest was given a limited edition Gypsy T-shirt emblazoned with the slogan "Make a Difference." Sales of the shirts will benefit the IDF and its worldwide humanitarian efforts, a number which are listed on the back of the shirt.