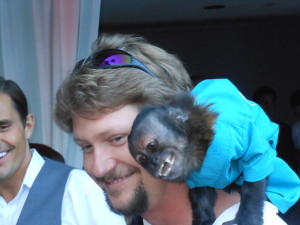 Crystal the monkey had a big smile on her face. The adorable star of NBC's upcoming sitcom "Animal Practice" was the center of attention at the network's poolside party at the Beverly Hilton after a day of programming panels at summer TCA.
Coming off of her success in " The Hangover Part II," the capuchin monkey tirelessly posed for pictures with guests, stopping only for little reward treats from her trainer, Tom Gunderson.
At his direction, Crystal hopped on their shoulders and wrapped a paw and often her tail around their necks. She performed a variety of poses from looking pensive to smiling broadly and then giving monkey kisses.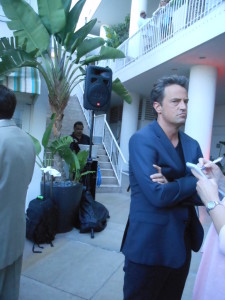 Her stardom was eclipsed only by Matthew Perry, starring in the new comedy "Go On," which is being heavily promoted during the Olympics, in which he plays a recently widowed sports talk show host who reluctantly joins a support group.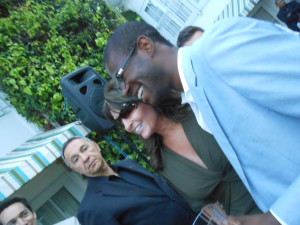 And then there Sarah Palin, whose husband, Todd, is among the cast of the reality competition series "Stars Earn Stripes," which premieres after the London Summer Games. Palin, wearing a short green dress, large sunglasses and chunky black platform sandals caused quite a stir. The former Republican vice presidential candidate and Alaska governor clearly has a lot of experience working crowds and this night was no exception.
Produced by Dick Wolf and David Hurwitz, "Stars Earn Stripes" is hosted by Gen. Wesley Clark and Samantha Harris. A cast of celebrities, including Dean Cain, Laila Ali, Nick Lachey, Palin, Picabo Street, Eve Torres, Terry Crews and Dolvett Quince are trained by operatives from the armed services and compete in a series of daring stunts.
During their session, Crews talked about how he had almost drowned and Ali related nearly weeping during one of her exercises.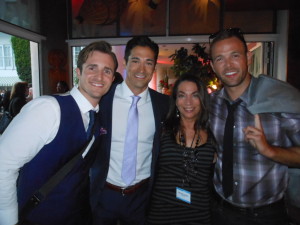 Although it doesn't have an air date yet, there seemed to be a lot of excitement about the new Eva Longoria-produced dating show called "Ready for Love." The premise: three guys, Tim Lopez, Ben Patton and Ernesto Arguello are presented with a group of women who are coached by a team of matchmakers (Matt Hussey, Amber Kelleher-Andrews and Tracy McMillan) on what to do and what not to do to win their undying love.
Bill and Giuliana Rancic co-host and were in attendance at the party, along with the other participants. As the show is currently in production and the guys are still in the process of going out on dates and narrowing down their choices, things were pretty hush-hush. Although we wouldn't be surprised if "the guys," as they're calling them, walked away with some phone numbers.