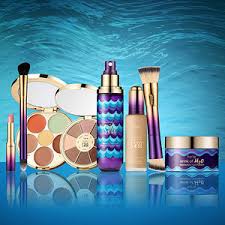 Rarely have we seen such beautiful packaging than for Tarte's gorgeous new Rain Forest of the Sea collection, with gold lettering on sleek boxes that blend deep turquoise into purple.
But what's inside is even better. The collection features everything from a stunning round eyeshadow palette to lipsticks, foundation, brushes and even a color-correcting palette and skin care products.
Several of the limited edition items are already sold out, but you may still be able to get your hands on the amazing shadow compact, which comes in a beautiful gold, blue and purple mirrored case that holds eight shadows.
They all have names reminiscent of the sea including Mermaid, Seashell, Wave, Abyss, Reef, Starfish, Cove and Sand. Also included are instructions on how to create two looks, Beach Bum Bronze and Deep Sea Dusk.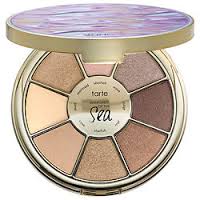 Another of our favorite products from the line is the Drench lip splash lipstick that comes in a stunning ombre slim-line case, skinnier and longer than a traditional lipstick. Our favorite color: Bonfire, an on-trend deep purple wine shade that glides on seamlessly—and stays on.
We are also loving the Skin Twinkle Lighting Palette with shimmering colors of Sunlight, a champagne gold, Moonlight (rosy pearl) and Filtered Light, a matte sand shade. Just take your blusher/bronzer brush and go to town with it.
Another favorite is the Drink of H2O hydrating boost formulated with essential oils, hyaluronic acid and Tarte's proprietary Rain Forest of the Sea antioxidant complex. The cooling water gel texture leaves your skin looking hydrated supple and ready to take on anything. So as Tarte says, drink up!
There's also a cleansing gel and facial mist along with a hydration-boosting foundation available in 12 shades.
The collection is available at Tarte Cosmetics, Sephora and Ulta, with prices ranging from $10-$45.