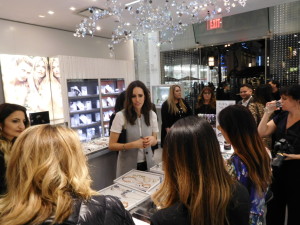 The mood was undeniably sparkly as Swarovksi hosted a pre-Oscar champagne reception at its Atelier at The Grove in Los Angeles.
Television host Louise Roe was on hand to help guests find the perfect red carpet looks for all the upcoming soirees, including those on Hollywood's biggest night.
Roe herself will be on the red carpet at the Dolby Theater for Access Hollywood, presumably decked out in Swarovski jewels and a fabulous gown while interviewing nominees and presenters. "Rain is predicted, but I'm not too worried about it as the area is mostly covered—although my back may get a bit wet," she told us at the event.
For 10 years now, Swarovski has created all of the crystal stage decor for the Academy Awards, with production designer Derek McLane in his fifth year of working on the show.
More than 300,000 Swarovski crystals will be used for the massive stage curtain, set pieces, the proscenium and an 80' x 40' backdrop wall with 149 separate panels made of crystals. Eighteen opera boxes in the theater will be covered with 23,500 Swarovski crystals.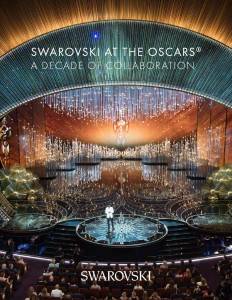 For comparison's sake, in 2007– Swarovski's first year at the Oscars– a total of 50,000 crystals were used on the stage.
The Austrian-based company was founded in 1895 and is now run by the fifth generation of the family who started it all.
To celebrate its 10th year collaborating with some of the world's best-known designers, including Jean Paul Gaultier, Viktor&Rolf and Christopher Kane, Atelier Swarovski will premiere its new fine jewelry collection on the Academy Awards red carpet February 26.
The new collection is billed as bringing conscious luxury and innovation through responsibly created diamonds grown in a state-of-the-art laboratory. They have the same chemical composition and physical attributes as diamonds that are mined– and the same strength and brilliance.
The jewelry is created in a Paris atelier using those diamonds and Swarovski crystals. The collection includes rings, earrings, bracelets and necklaces grouped into three themes, Mosaic, Art Deco and Concentric.
"We are excited to unveil our first Atelier Swarovski Fine Jewelry Collection on the Academy Awards red carpet this year," said Nadja Swarovski, member of the Swarovski Executive Board. "The collection, which has been handcrafted in Paris with Swarovski Created Diamonds and crystals, is a reflection of our 120-year heritage, and the innovation, craftsmanship and sustainability embedded in our company's DNA."
Retail versions of the red carpet pieces will be available next year.
Atelier Swarovski is also unveiling a collection of hair ornaments created in collaboration with noted French hairstylist John Nollet. Handcrafted in Paris, the hair accessories – clips, bands, brooches and even a hairpiece with a braided hair extension and a forehead jewel – are designed to evoke the glamour of the red carpet and will also come to retail in 2018.