The tenth anniversary is always something special to celebrate, and that was certainly the case at Debbie Durkin's EcoLuxe Lounge honoring the 2017 Oscar nominees.
Hollywood set designers couldn't have come up with a more perfect day– a sunshiny Friday after all of the rain — at a venue that is always festive, the Stardust Penthouse of the Beverly Hilton, which offers magnificent, wrap-around views of the City of Angels in all of its glory.
Taking over the outdoor patio and the inside space, the event, which was sponsored by Chariot Travelware and Un Joyau Majestueux supported the charity Autism Changes.
Guests including Adrienne Bailon, Gilles Marini, Drake Bell and "This is Us" co-stars Parker Bates, Logan Shroyer and Lonnie Chavis made the rounds and checked out the goods and services of a diverse array of vendors.
They received $200 gift cards for meal delivery services from Nutrition Chef Alex Fioroni, complimented by certified Coffee Roasters 100% Jamaica Blue Mountain Coffee courtesy of the Jamaican Tourist Board, who generously gave away island resort stays to select VIPs at the lounge.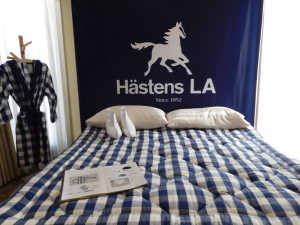 Guests were pampered in the OC Makeup and Beauty Bar, which provided hair and makeup services and got to meet Dr. Daniel Barret of  Barrett Plastic Surgery of Beverly Hills. They were styled by fashion designer Dena Burton Collections in the beautiful fashion showroom designed by Diamond Interiors LA.
Hastens LA was on hand to display its custom all-natural beds, and warm slippers and bathrobes.
Other sponsors included Nomad Cosmetics, Beauty Kitchen by TV Host Heather Marianna, Hollywood Makeup, and Anchor Almond Butter Toffee handcrafted in Rhode Island, and John Paul Pet.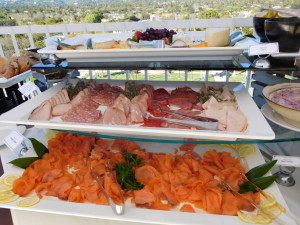 Out on the patio, overlooking the new Waldorf-Astoria under construction, guests enjoyed an outstanding farm-to-table European brunch curated by Beverly Hilton Chef Alberico, served on RePurpose Compostables plates and flatware made from plants and accompanied by chilled Piper Sonoma sparkling wine in addition to Un Joyau Majestueux Ruby (2014) Cabernet Sauvignon from Napa Valley.
VIP celebs were gifted select stays in the Nordic Light Hotel in Stockholm, Sweden, for which Chariot Travelware's eye-catching and fashionable luggage would be the perfect travel companion, as well as for domestic trips.