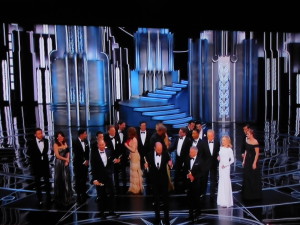 As guests walked the red carpet into the Roger Neal Style Hollywood Academy Awards Viewing Dinner at the Hollywood Museum Sunday night, no one could have guessed that this Oscar night would go down in history as the craziest and most chaotic ever.
And all of them will remember where they were when the big mix-up for Best Picture went down, with "Moonlight" winning the trophy from "La La Land," initially announced by Warren Beatty and Faye Dunaway
This is the Neal's second annual Oscar viewing dinner, held at a historic location across the street from the Dolby Theatre where the ceremonies take place – that epicenter of Hollywood.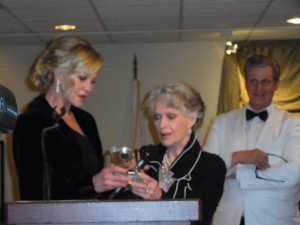 And the festivities feature their own accolades, with two honorees. The Icon Award was presented by actress Melanie Griffith to her mother, Tippi Hedren, who gained world recognition by starring in Alfred Hitchcock's films "The Birds" and "Marnie" in the 1960s. In addition to her long acting career and an equally lengthy list of honors, she is known for her commitment to animal rescue and preservation of endangered species. She founded the Shambala Preserve in Acton, California, an animal sanctuary for exotic big cats like lions, tigers and leopards.
Hedren was visibly moved in accepted the award from Griffith, who's starred in films including "Body Double," "Something Wild" and "Working Girl," for which she received an Academy Award nomination and a Golden Globe.
Actor Paul Sorvino presented the other Icon Award to Kevin Sorbo, well known for his work as Hercules.
Signposts of classic Hollywood were everywhere throughout the beautifully decorated ballroom, with tables named for films including "Casablanca," "Chicago" and "The Godfather."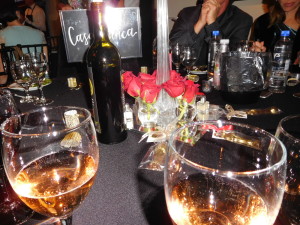 The 250 invited guests enjoyed a formal sitdown dinner created by chef John Safoyan of LA Lobster Party. It began with the beautifully composed salad, followed by lobster bisque and then a memorable main course of freshly flown in Maine lobster tails, filet mignon, boiled potatoes and string beans. Lorimar Wines and Sunshine Mountain Wines & Vineyard provided the libations.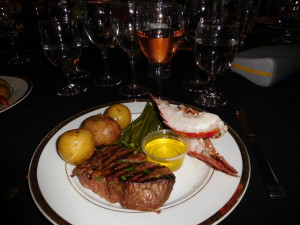 Dessert was a signature gourmet cheesecake from Mascarpone Cheesecake's Chef Turok. Each guest also received a miniature chocolate statuette from Chocolatier Glamour Bombonier Brazilian Sweets.
And what a sweet event it was. "We were thrilled to have Roger and his Oscar Viewing Dinner back with us , we are right in the middle of all of the Oscar night activity and we know that the guests and stars coming to this dinner will have an incredible time," said Hollywood Museum president and founder Donelle Dadigan.
Neal, who with his wife Lynn Briggs Neal has been producing awards events and suites for 21 years, said his vision for the Oscar dinner was to bring together classic and young Hollywood to watch the Oscars and celebrate each other.
Guests included Oscar winners George Chakiris and Margaret O'Brien, Fred Willard, Sheryl Lee Ralphs, Dawn Wells, Ruta Lee, Erin Murphy, Karen and Kat Kramer, Gloria Loring, Maria Conchita Alonso, Kate Linder, Barbara Luna, Jayne Kennedy, Lee Benton, Marla Gibbs and Jake Busey.
Presenting sponsor was Suzan Hughes Education Foundation.
The evening's proceeds benefited Sheryl Lee Ralphs' Diva Foundation, Generosity.org and The Thalians.