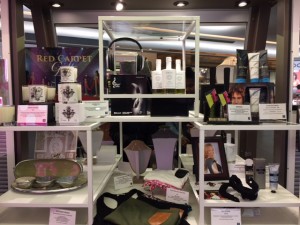 Awards season. It's not only about the campaigning, the partying and the trophies themselves. It's about the gift bags—goodies that nominees and presenters get as a perk.
New York-based Madison & Mulholland has been at the forefront of celebrity gifting for a number of years. And now it is showcasing a new concept, making the products that were in its 2017 awards season gift bag presented for purchase at a pop-up shop just steps from the Dolby Theatre, where the Academy Awards take place.
Trendsetting items from a vast array of categories including skincare, jewelry, clothing, hair products, accessories, eyewear, home decor libations and gourmet food items are all available at the shop, which is located on the second level outside Sephora at the Hollywood & Highland center.
The shop, officially called the Red Carpet Celebrity Gift Bag Pop-Up opened several weeks ago, in preparation for the Oscars on February 26 and will be open during regular mall hours until March 12. The concept is for people to experience and shop for the coveted and curated products gifted to celebrities, including some items that have only been available to showbiz insiders—until now. There are also some gift with purchases, including a gift card from HotelAndResortCard.com.
"This is an amazing opportunity for consumers to meet entrepreneurs, purchase products and get a taste of 'Hollywood,'" said Jane Ubell-Meyer, CEO of Madison & Mulholland." The pop-up retail is a $22 billion industry and we're excited to bring celebrity gifting to this new platform." M&M, as it's known in the business, worked with JBC & Associates to create and implement the retail concept.
But no worries if you cannot physically get over there before then – all of the featured products are available for purchase through the Madison & Mulholland website.
Here is a sampling of some of the unique products available: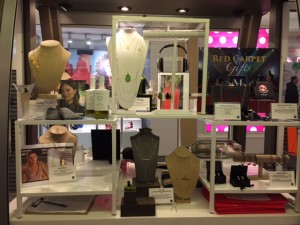 Caterina Jewelry Kiss Kiss Collection sterling silver bracelet with cubic zirconia accents and charms, available in 10 colors and two sizes, which come in a cream velvet pouch with the CJ logo on it
Bio Miracle Skincare A new line of coffee-based facial masks, body wash and scrubs that do for your skin what coffee does for your body – stimulate and refresh it. If you love the smell of coffee you will love these products!
Brushopolis Monroe USA Glamour hourglass round styling + finishing brush, a secret new trick of the trade that makes fine to medium hair straight and smooth without the damaging heat of a flat iron. It's perfect for lengthening bottom layers and smoothing out bangs
Charm Opener, an easy to use patented tool designed to easily open all brands of charm bracelets, necklaces, and clip beads. It helps anyone–clients and jewelers alike who've struggled to unclasp charm jewelry and chipped their fingernails, or damaged their jewelry using sharp objects. The Charm Opener makes it a breeze to open and change charms on the fly—even while on your wrist– and works on all brands of charm bracelets, necklaces, and clip beads like Pandora, Chamilia, etc.
Isabella Hearst New York No Paparazzi Wallet
This zip wallet with coin purse and slots for credit cards is made in Italy of 100% cowhide with silver hardware. The slim style is fashionable and ultra-convenient, plus the No Paparazzi logo makes it a cool conversation piece.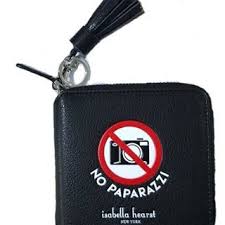 Kiklos Greek Extra Virgin Olive Oil is made in limited quantities from only one varietal, Koroneiki olives, known as the "Queen of Olives" for their taste and health benefits. The olives are farmed exclusively in the Peloponnese. Kiklos is 100% pure and its bold, rich flavor is punctuated by its signature "Kiklos Kick," signifying the antioxidants within. Packaged in white to protect the oil from sunlight, an elegant 500ml bottle of Kiklos typically retails for $29, but its real value is measured in genuine authenticity and natural deliciousness.
Levears Earring Lifts for any type of post earrings. You know how sometimes earrings "sag" from their weight or design? Levears give earrings an instant lift! Simply replace your existing earring backs with ingenious Levears. No more sagging, stretching, pulling or tearing of piercings! Levears keep earrings up and in place safely and comfortably. Made in the USA of nickel-free Sterling Silver.
Little Black Box by J Grace Co – part of the  Designer Jewelry of the Month Club featuring handmade CZ & Sterling Silver Jewelry like the gorgeous Albina earrings, six-Carat teardrop Sterling Silver with a platinum dip and arrow-cut simulated diamond.
Tinsley Radix dressy tank tops, like the racerback style made of high quality ponte knit with a faux leather pocket and the Becca sequined tank with a satin lining, lightweight and easy to dress up—or down with different looks and styles
Unique Candles enable you to set the mood with the right scent. Luxury soy blend candles with unique fragrances to infuse your surroundings with delightful scents. Hand poured in California, these candles are must-haves for the home.
Mederma AG Advanced Dry Skin Therapy Hand & Body Lotion removes dead cells from rough, dry, sun-damaged skin while helping to maintain skin's moisture balance.
Neutrogena Hydro Boost Gel instantly quenches dry skin and keeps it looking smooth, supple and hydrated day after day.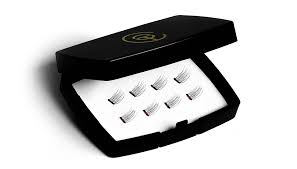 One Two Cosmetics Magnetic Eyelashes—this ingenious product was named "Best of Beauty Breakthrough" by Allure Magazine in 2016 and is a game changer. Forget eyelash glue and difficult application!
FreshBakedNY Michelle's Maccs: The Revolutionary Coconut Macaroon. A new and unique sweet treat. Eggless, flourless and covered in elite Belgian chocolate. Crunchy, chewy chocolate adds to coconut heaven. Available in 13 scrumptious flavors.
Truly Spiked & Sparkling is a clean, crisp and refreshing spiked sparkling water with a hint of fruit. With just 100 calories. 1 gram of sugars and 2 grams of carbs per serving, Truly Spiked & Sparkling (5% ABV) is crafted with simple, naturally gluten-free ingredients and contains no artificial sweeteners. It is bubbly, just like your favorite non-alcoholic sparkling water, and is a great alternative to wine, light beer and cocktails.
Eva Keretic Singer/Songwriter – Check out the music on this CD from an American living in Hamburg who sings from the soul and is an extraordinary vocalist.