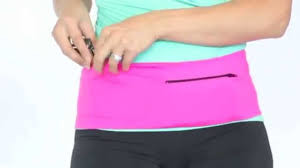 It definitely falls into the category of "Why didn't I think of that?" Hips Sister is an ingenious product for everyone who works out– and even those who don't.
Many workout bottoms like yoga pants, capris, sweat pants and shorts do not have pockets in them. So the big questions become where to put your keys, phone and other must-have items?
Hips Sister allows you to live life hands-free with a stretchy sash that hugs your hips and provides zippered compartments for all of your essentials. It's fashionable, functional and flattering and available in a multitude of styles from basic black to eye-catching colors and patterns.
Each sports a front and back zippered pocket to securely hold items including credit cards, cash, car keys, chargers, lipsticks, eyedrops and whatever else you find essential to have on your person.
We've road tested it both in an outdoor workout situation and inside the gym, because at the very least you need to carry a locker key with heel. Such a great concept–we love it!
Hips Sister would also be great for travel to keep valuables close at hand.
It is available from sizes ranging from extra small to plus and runs about $20-$25 at select retailers you can find here.